I stayed at the Majestic Grande hotel in Bangkok from Friday 28th of September until Monday October 1st 2007. I had room 1605 located on the 16th floor and I had a view from the Sukhumvit area where the hotel is located towards the Lumpini park area. We chose to stay at this hotel as it was rated very high on TripAdvisor.com and the price was quite low (which seems to be a great combination) but as we found out you can't always trust the ratings on TripAdvisor. Please click on the link below to read the entire review.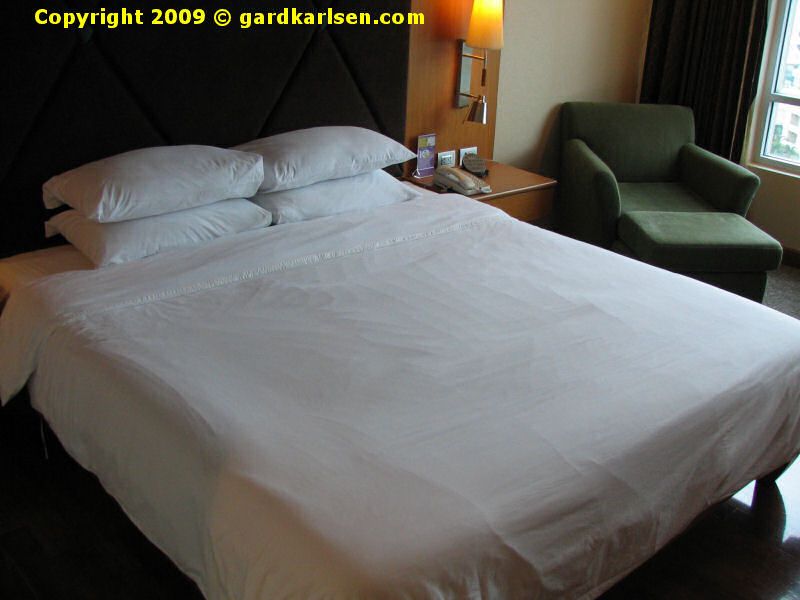 The check in was fast and efficient and the lobby area was crowded with employees from the hotel. So it didn't take us many minutes to get the hotel key and get to our room. The room itself had light concrete walls with light wall paper and some wood was used in connection with the bed and the ceiling. On the floor there was a combination of hard wooden floor and tiles. A big window was facing the road that leads from Sukhumvit to Lumpini area and even at night the traffic was pretty bad.
Apart from a big and firm bed the room also featured a comfy green chair, a work desk with a glass surface, a TV desk with a mini bar and a big Sony TV, a wardrobe with a mini safe etc. The TV remote was
a bit weird but I did figure it out eventually and the TV had various
channels including CNN, BBC but also pay TV. I did not take anything from the mini bar (Pepsi was 45 Baht/Singha 90 Baht) as I got two complimentary bottles of water each day. I also get a small bowl of fruit as a welcoming gift which is always a nice gesture.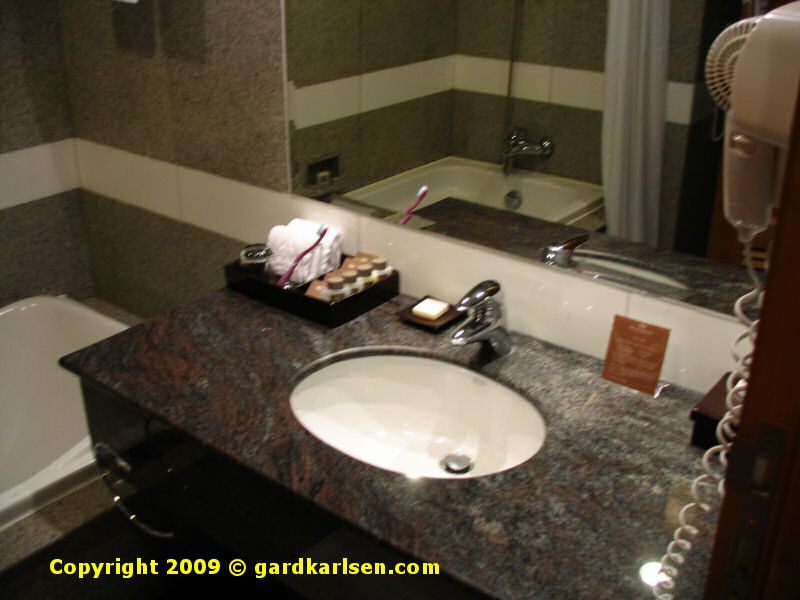 The bathroom was also tiled with "rock theme" tiles so it looked a bit dark. There was a level difference from the bathroom to the hall in the room and I smacked my foot into that a couple of times before I learned. Amenities included shampoo (that was not very good), conditioner, foam bath, moisturizer etc….but what happened to the shower gel?? But it was nice to see that they had other stuff on demand…such as toothbrush or shaving kit. Other items in the bathroom: shower cap, sewing kit, hairdryer and makeup mirror. The bathtub featured a shower option with the use of a shower curtain. I'm not a huge fan of this but it worked. There should have been a better fan in the room because it was very hot and humid in the bathroom after a shower.
The breakfast was quite OK and featured a standard selection of bacon, scrambled eggs, sausages, toast, jam, cereal etc. But I have to admit that it is the first time I have seen m & m's at a breakfast buffet :-). There was also a good selection of fruit, pastry, salads and the juice was pretty good. The breakfast was served in the restaurant on the 7th floor and this is where you also find the business centre, swimming pool etc.   The gym was rather sad and tiny. Once you see extensive use of mirrors on the walls it is normally a sign that they are trying to make it look larger than it is. The pool was also tiny and it seemed to be in a constant shade.
The bar in the first floor was good enough and one beer was 120 baht.
At happy hour it is buy one get one free. We got a voucher for one complimentary drink when we checked in and we used that of course
Locatiion
We arrived at night and just took a cab to the hotel from the airport
and I think we paid about 350 Baht for the transportation. The hotel is located on Soi 2 on Sukhumwit. It was about 100 meters to walk to Sukhumwit and a couple of hundred more meters to walk to the Ploenchit BTS station. The traffic at this area was pretty congested to if you are planning to take a cab make sure you have enough time.
Conclusion
Rating this hotel was a bit of a problem. If you look at Majestic Grande from a Norwegian perspective it is a pretty good hotel. But compared to other nice hotels in Bangkok this hotel is just average. I came to Bangkok and Majestic right after my stay at the fantastic Traders hotel (see separate review) in Kuala Lumpur so it was pretty obvious that Majestic had to be outstanding if it were to beat the experience with Traders…and it was no way near being as good as Traders. The main problem at Majestic are the elevators…there are only 2 of them serving all 32 floors and getting to breakfast was a headache as the lift would stop at more or less all floors. As we were on a business trip we were also dependent on having access to the internet. It was a bit annoying that this was limited to one hour per day.
The positive thing about it was the price. We were on a budget and we were able to get the superior room for just 2700 Baht and that is pretty cheap.
The next time I go to Bangkok I doubt that I will stay at the Majestic. I would try to find a hotel that is located closer to a BTS station. And if you are going there on a vacation you should also look at getting a hotel with a better pool.