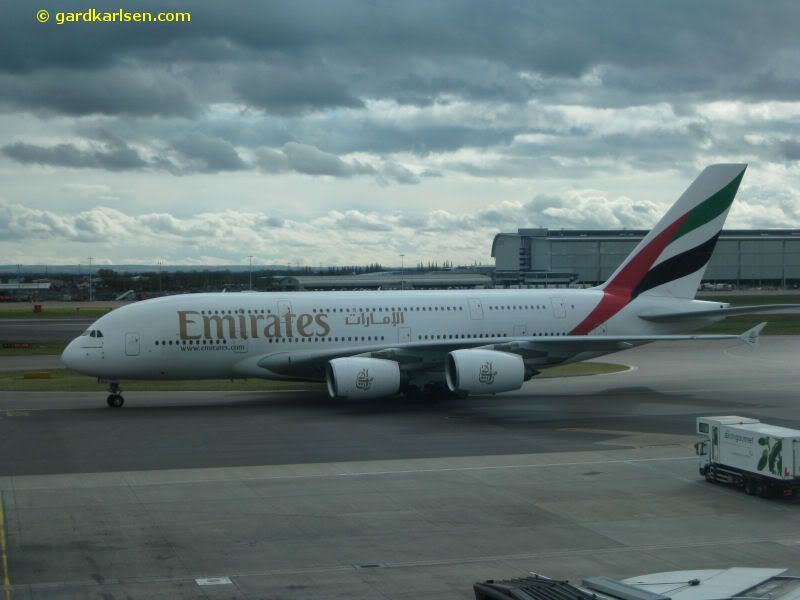 Have you ever wondered what flying Emirates Airlines would be like? And do you wonder what it is like to fly the brand new Airbus A380 (you know….the plane with two floors)? Well, this is my experience with flying Emirates Airlines and A380 for the very first time…and it was even on business class
The flight took me from Stavanger to London with SAS and from there to Dubai and Bangkok with Emirates.
In the beginning of 2009 I came across a good offer on Emirates Airlines to Asia and as a colleague and I was going there, we decided to go for it. The price was £1350 per person for a round trip from London to Bangkok and in addition to this I bought tickets from Stavanger to London and Bangkok to Kuala Lumpur.
So on March 26th 2009 we took the bus to Sola airport to take the flight to London Heathrow.
Our flight SK4627 was supposed to take off at 5.50 PM but after we went through security, there was a power failure at the airport and that lead to some problems. But it "only" lasted for 30 minutes and we used the opportunity to enjoy a glass of beer and something to eat.

When boarding we were in the front and eager to get in. And soon they started letting people go through but the walkway to the plane was still blocked near the plane as they were not finished getting the plane ready. So we had to stand there for 5 to 10 minutes and that was not very pleasant as I only wore a thin shirt (and it was still a cold spring day in Norway). So I was pretty frozen when we finally got onboard and I had to grab a blanket on the way to my seat. Due to a slot time in London, the passenger were instructed to find their seats as fast as possible. I have never seen a Boeing 737 be filled this fast. We did take off on time and hence we got to London on schedule.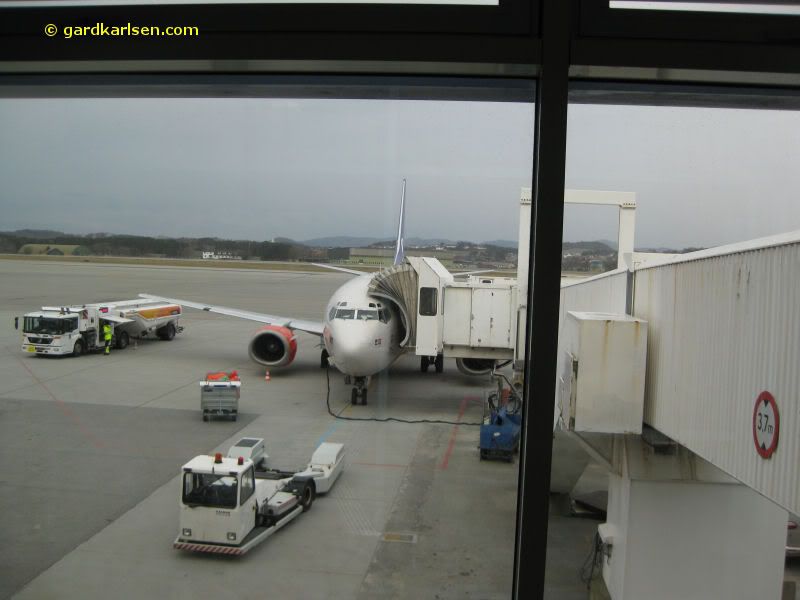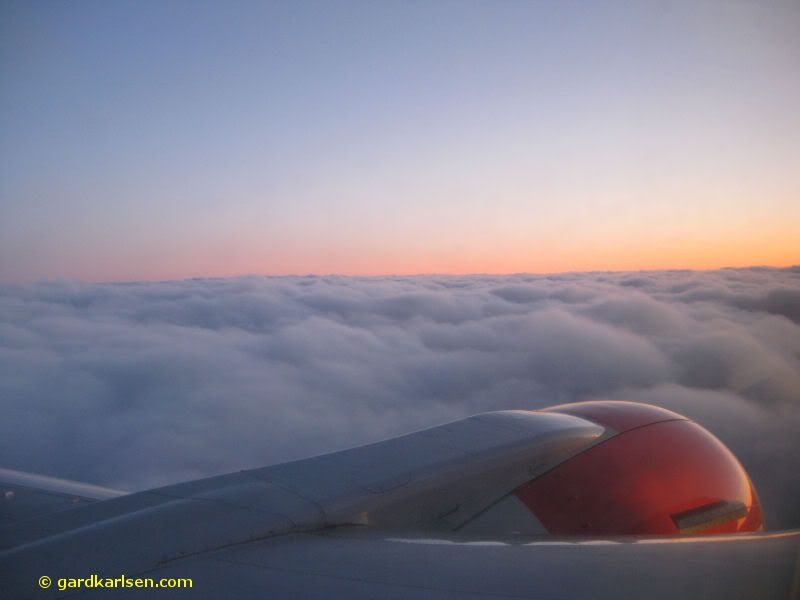 We had economy tickets and that means that you have to buy food and drinks on board. Normally I don't buy stuff on board but this time I went for coffee and Baileys to warm up. After we arrived in London we had to freeze again – after we got our luggage we went to the Hoppa bus service to take a shuttle bus to the hotel but we had to wait awhile before the bus came. We did try the taxi service by the way and we were turned down and they asked us to go for the Hoppa service. I guess they didn't want to just take a short trip.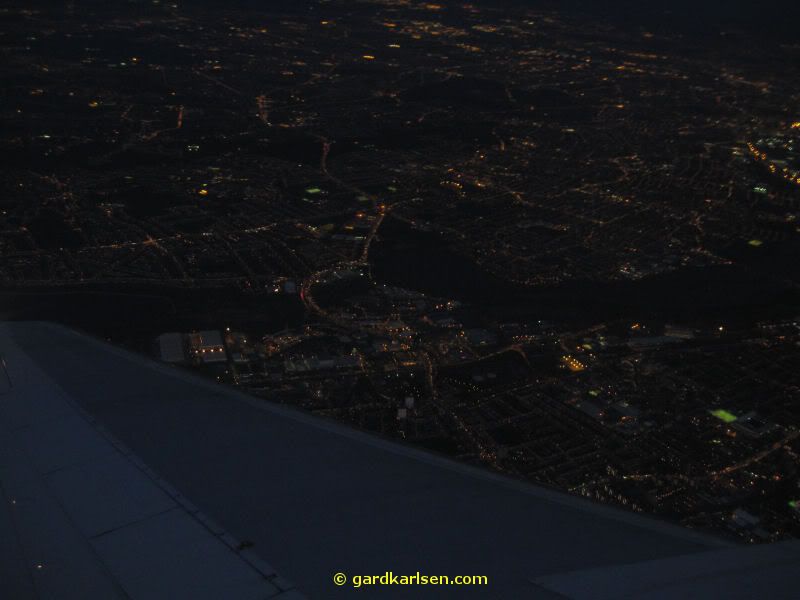 But our shuttle bus H3 finally came when we took it to our hotel Sheraton Skyline for £4 each. Check in was fast and we just had dinner at the Al Dente Italian restaurant at the hotel. What I remember best from my previous stay at the hotel was the comfortable bed and it still was. The lounge at the hotel was small but cosy. The breakfast selection in the lounge was not over the top in any way but more than enough. There was also a very good view of one of the runways at Heathrow from the lounge in the hotel – pure heaven if you are into plane spotting
On March 27 it was time to start the "Emirates experience". We took a hotel taxi to the airport (£10 to terminal 1 and £12 to terminal 3) and we came early as we didn't really have anything else to do. When you drive in towards the airport you pass a big model of Emirates Airlines A380.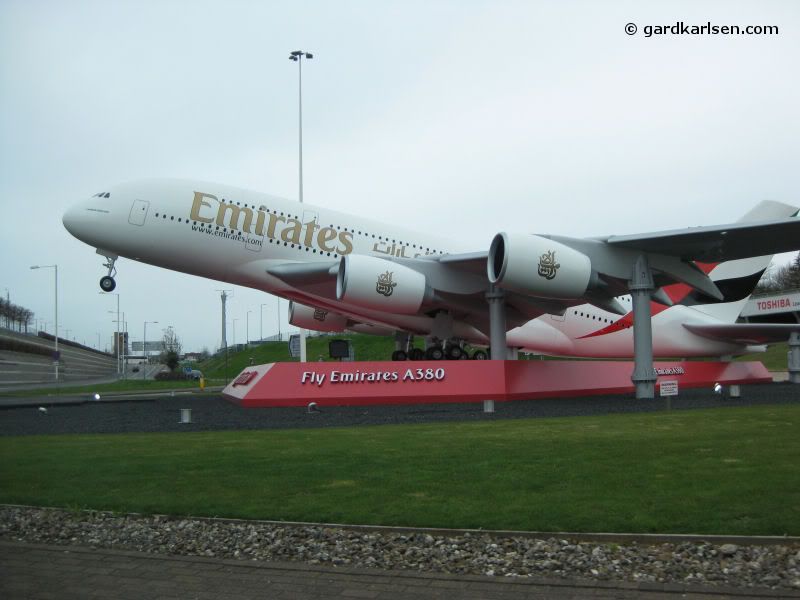 But at check in we got some bad news…our flight had been delayed so we would not be able to catch our next flight from Dubai to Bangkok…but we had been rescheduled to a new flight from Dubai to Bangkok about 6 hours later on.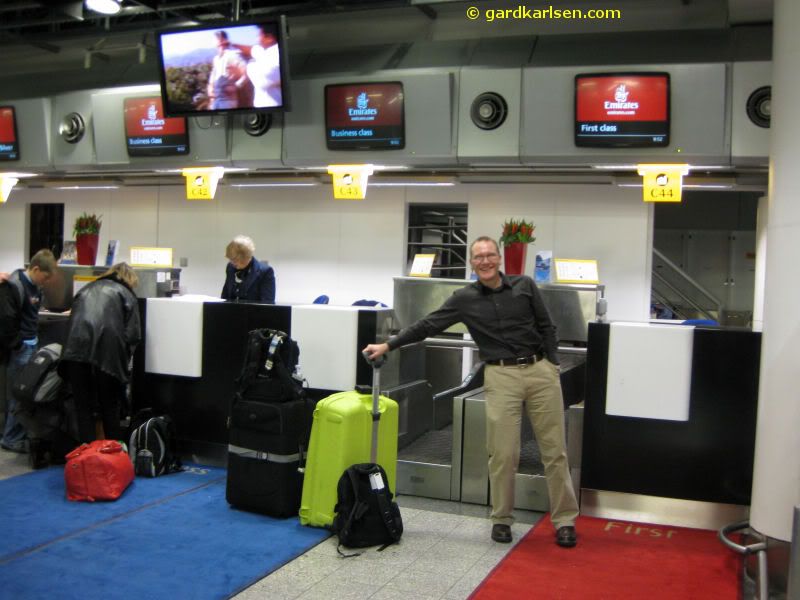 So we just went to the Emirates lounge in Heathrow terminal 3 – we were a bit surprised with the anonymous lounge entrance but it turned out that it was just the lobby. The rest of the lounge was located on a floor above. We found some nice chairs and at 11 am lunch was brought out. They brought out dish after dish and as you can see in the photos and video there was lots to choose from. It seems like Singapore Airlines uses a gate near by as we saw one of their A380 being pushed from the gate right next to where we were seated. We tried some of the food (of course) and also tried some of the drinks they had to offer.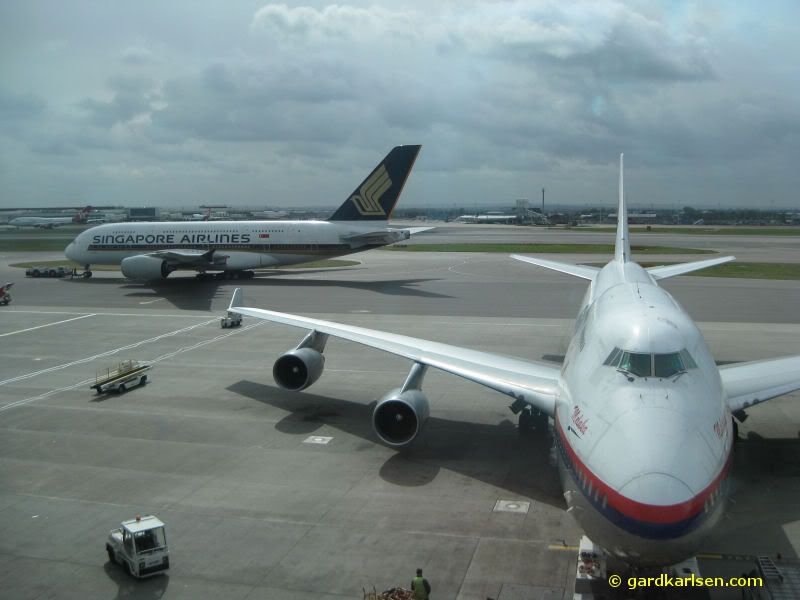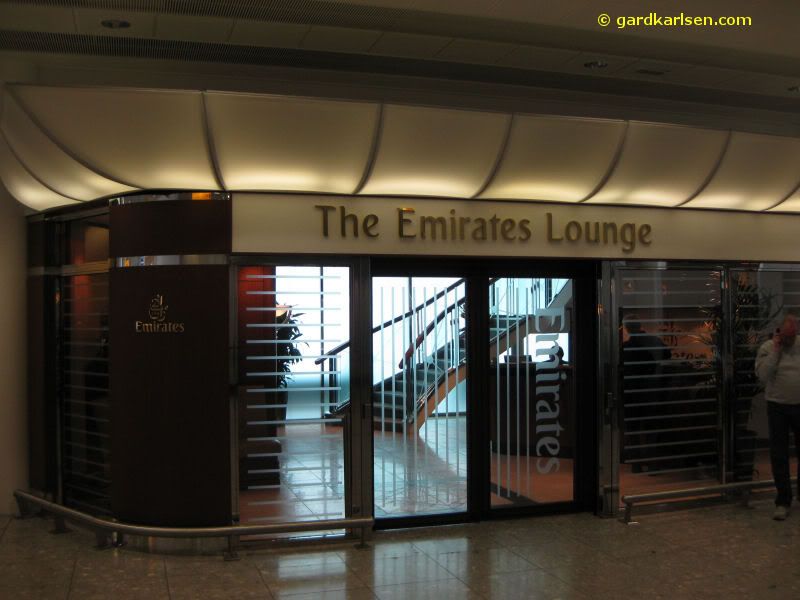 The Emirates lounge was nice but I think I have to say that the Malaysia Airlines lounge in Kuala Lumpur was better when it comes to facilities (chairs, layout, showers etc). But the selection of food in the Emirates lounge was pretty amazing. Cold appetizer such as salmon, trout, shrimp, salad, hummus etc etc. The warm food selection included schnitzel, shaepards pie, fried salmon, chicken tangine, ragatoni etc…and there was also a good selection of cheese and dessert. The only problem was that some of their portions were too big..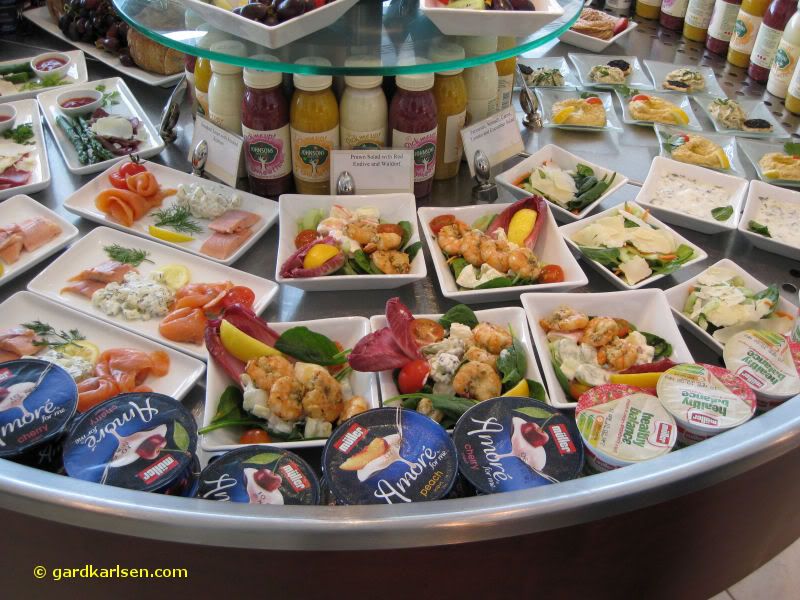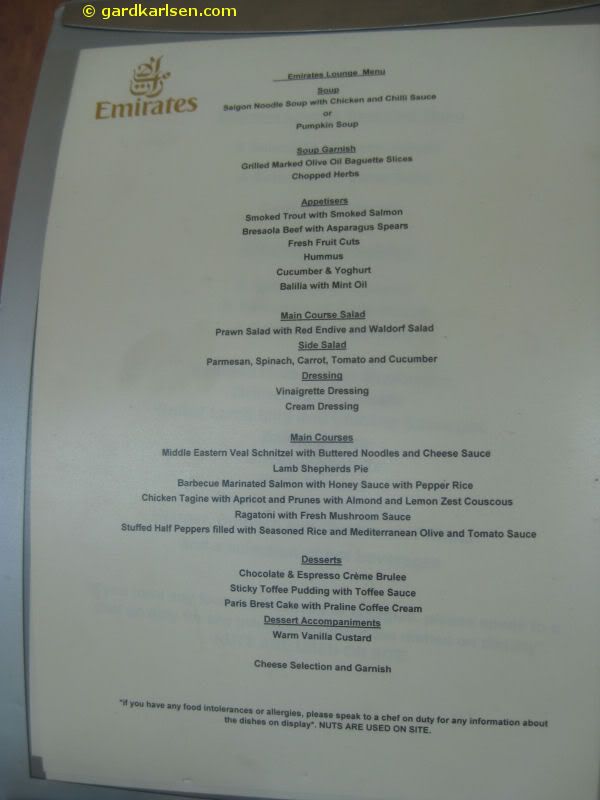 So finally at about 2.30 PM the Emirates A380 landed on the runway right outside our window and it didn't really looked that big when it was seen by itself. But when it came closer and next to other planes it was easy to see that it was a huge machine. It parked at the gate right outside our seats so we could see all the details. It is amazing to see all the logistics involved when they prepare a flight. – suitcases going out and in, food loading, cargo etc. At 4 pm it was time to board and the we could board without leaving the lounge through the lobby we came in as their was a door leading right into the area for boarding.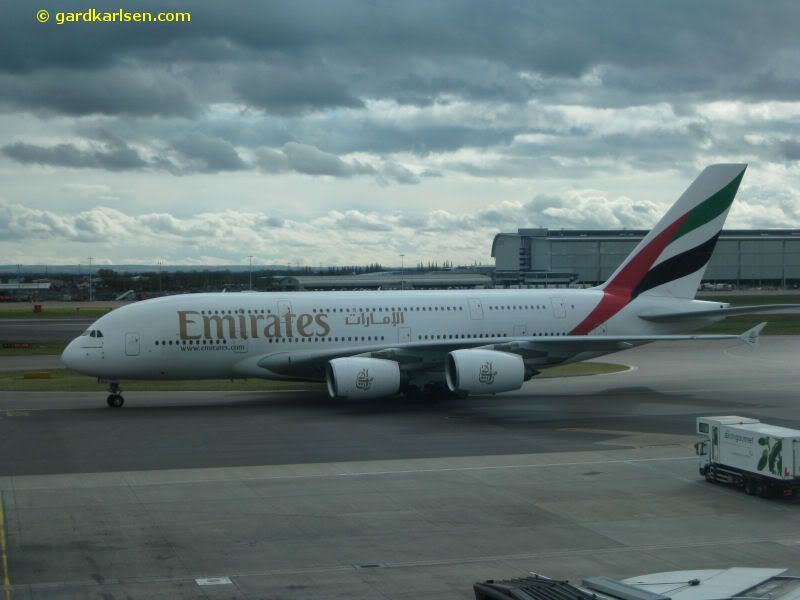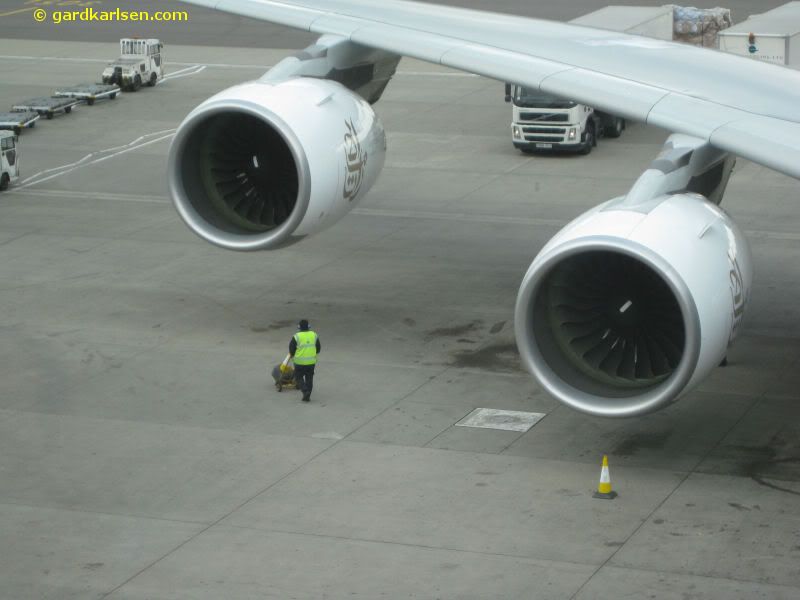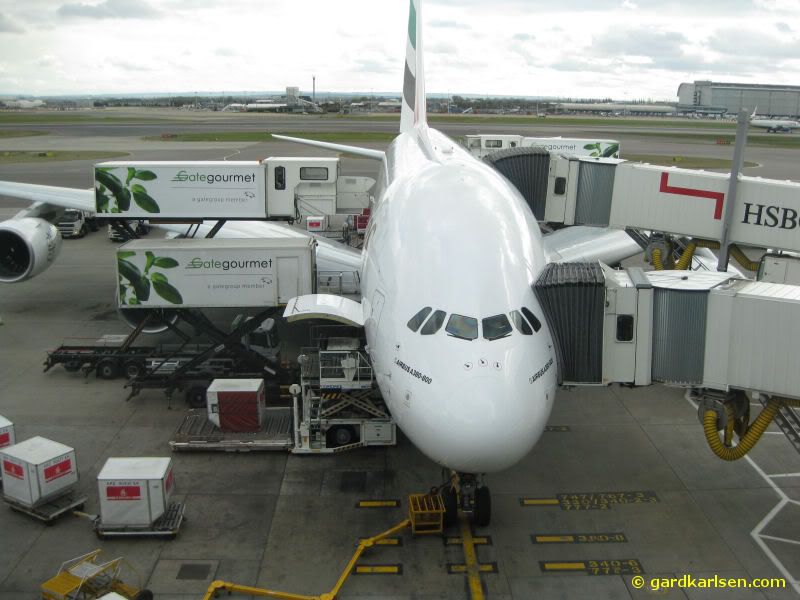 We came into the plane on the upper deck and we were seated in the front. I had seat 8G but because of the configuration (1-2-1) I was seated a bit too far from my colleague – it is easier to understand when you look at SeatGuru. But this was resolved when we could move to 7E and 7F as the plane was not full. I'm not sure there is much more to say apart from the fact that the seat and business class is impressive. I hope that the photos and video can give some sort of impression of what it was like.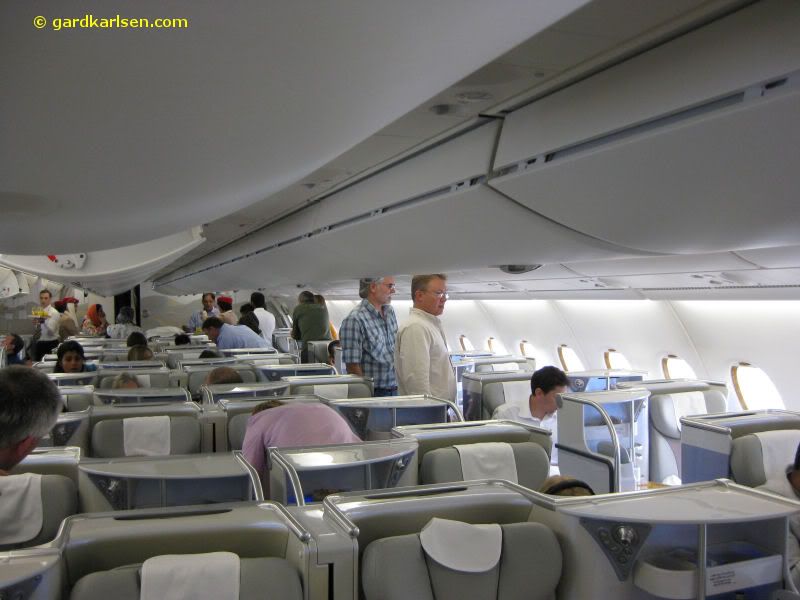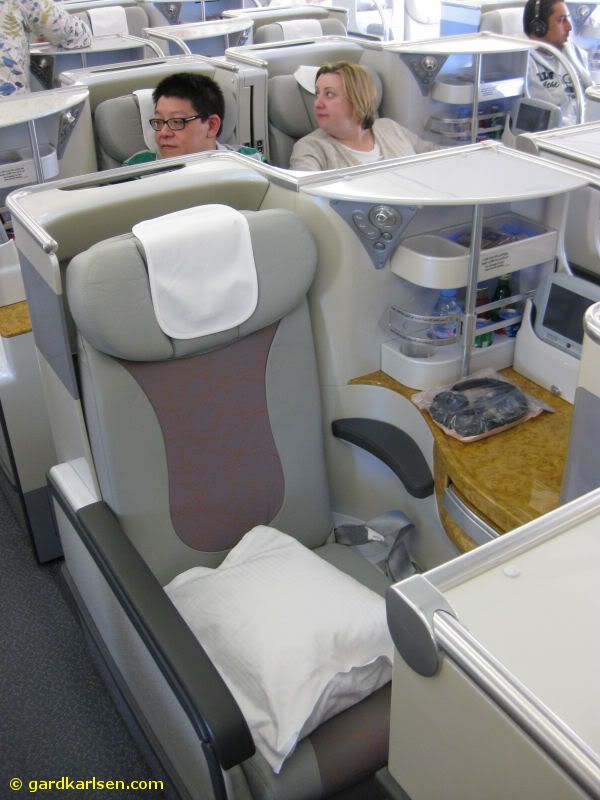 Each seat had a small section with water (I would preferred something else than Evian) and we also got noise cancelling headset, eye shades, socks (it would have been better with slippers) and we also got a toiletry bag with shaving kit, after shave lotion, deodorant, tooth brush etc. The TV was a 17" screen with the ICE system and that means that you can be entertained "forever" – according to the information we got there were more than 600 channels of TV, movies and music to choose from.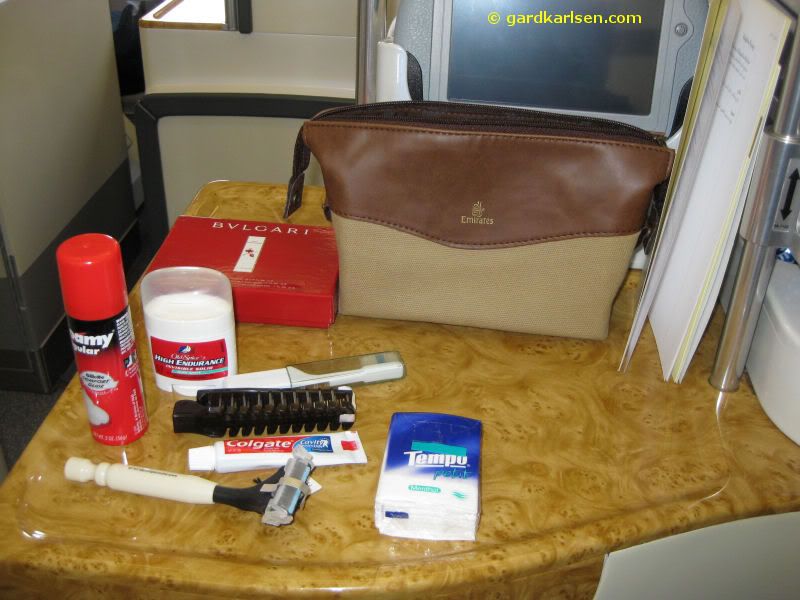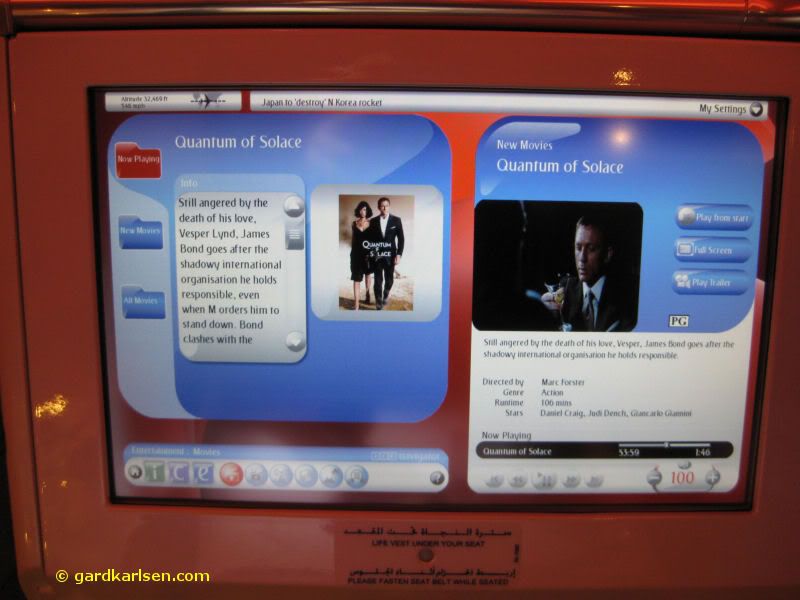 About 4.15 PM it was time for take-off and as I was seated in the middle of the plane on the upper deck, it was hard to get an impression of what was going on. But due to the tail camera it was possible to keep an eye on the activities.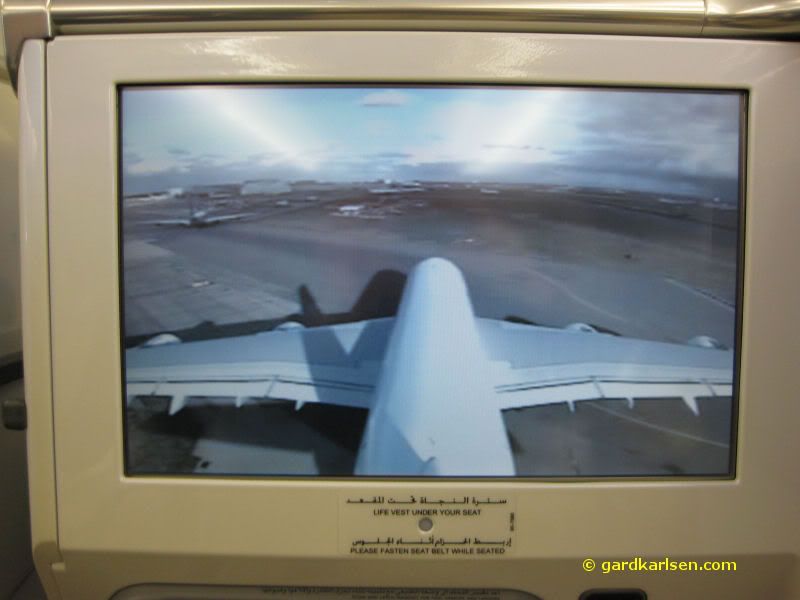 The take-off was very quiet and more quiet than any other plane that I have tried out. But when cruising at normal speed the noise level was more or less equal to other flights that I have been on. After take-off we chose food according to the menu. I went for the champagne to start with, the arabic mezze as appetizer and veal as main course and cheese cake for dessert. We asked how long it would take for the food to be served as we wanted to take a look around the plane. Our host then suggested that we went for champagne in the bar/lounge in the back on the plane and he would come to get us when the food was ready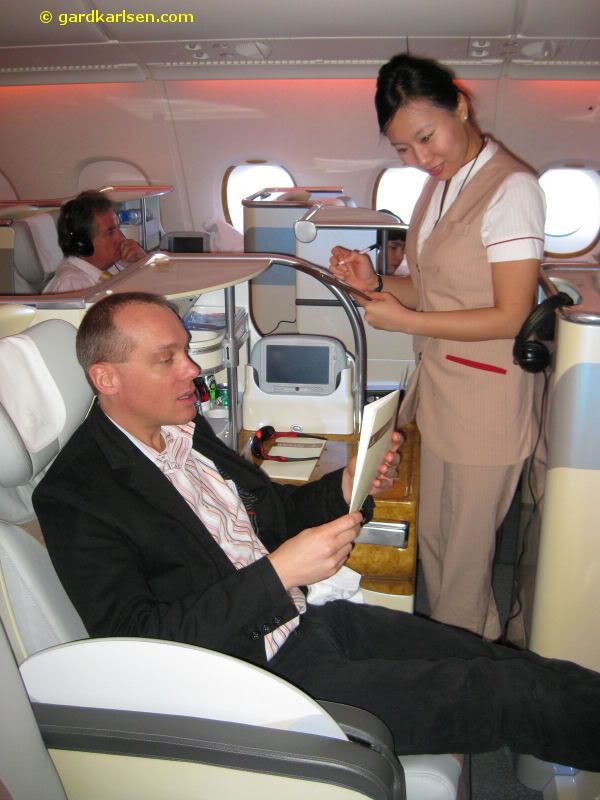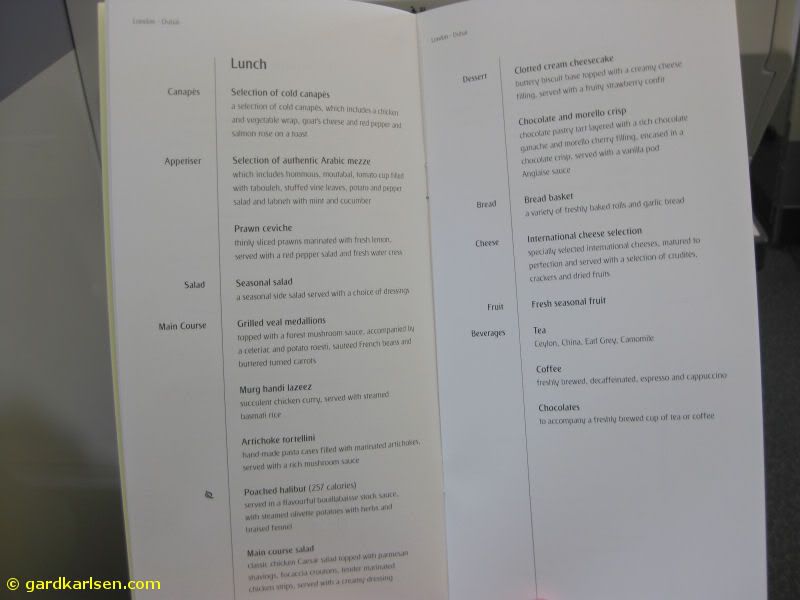 The lounge in the back of the plane was great. We had champagne there and sat in the sofas as the "fasten seatbelt" sign was lit due to turbulence. In the lounge it was also possible to get some light snack and of course there was room to stretch the legs.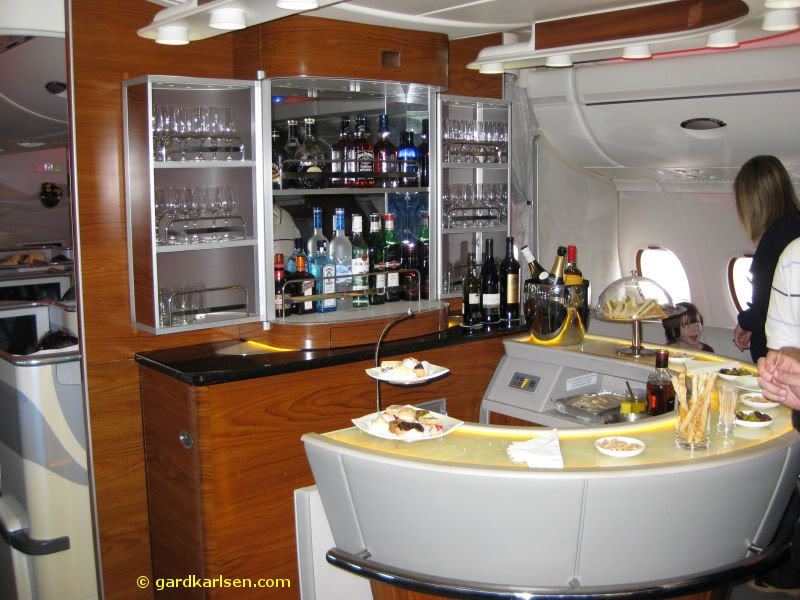 After a while in the lounge we went back to our seats and the food was served. The food was very good and it was a treat getting it served on nice plates with proper cutlery. But one thing that was a bit annoying was the serving coordination. My colleague and I was served by two different hosts and our food came at different times. So I guess I now understand why e.g. SAS sometimes do "synchronized serving" as it is always nice to get food served at the same time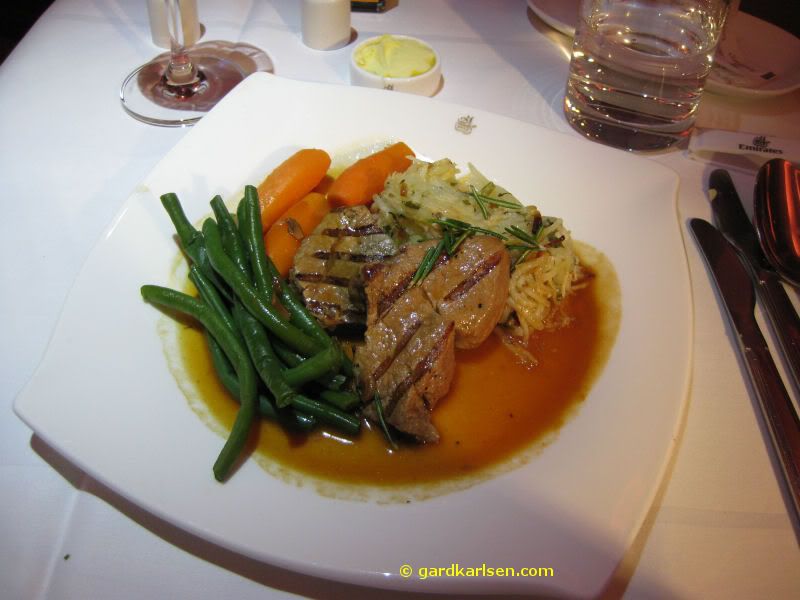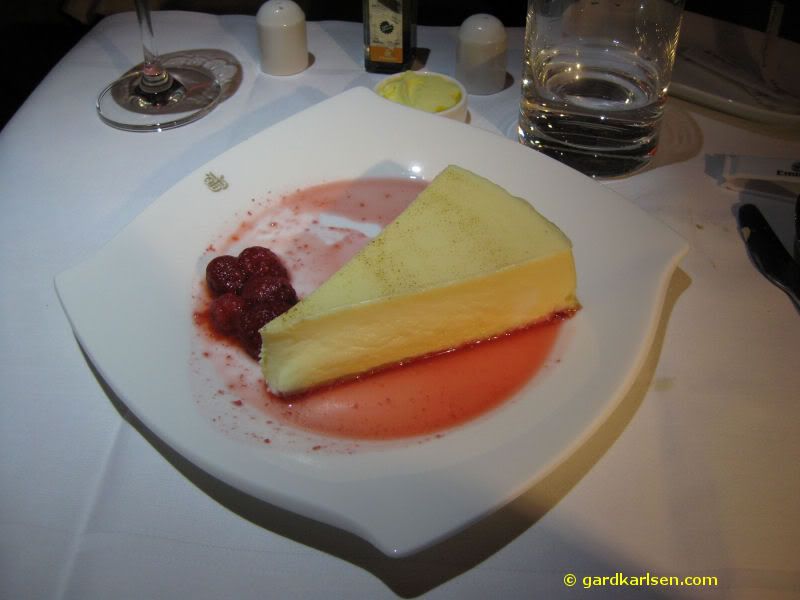 I also had to wait pretty long to get some coffee and Baileys served. I ended up going back to the lounge after the meal – the staircase leading down to economy class was "blocked" and I asked them why, The only reason was that they wanted to avoid people from Economy walking around on business class. But I did get to take a walk down to the economy class and it didn't look bad at all.
I did get tired eventually and I want to my seat to check out how it would work as a bed. But I was very disappointed as my seat didn't function properly and I could only recline it a bit. My host tried to reset the seat/computer but it did not fix the problem. So the only option would be to put the seat in a reclining position manually. As this was a relative short flight it was not a huge problem but I would have been very disappointed if this had happened on a long haul flight lasting 12-14 hours.
After 7 hours we landed in Dubai. When we were approaching the airport we even got a glimpse of the spectacular Burj Dubai – the tallest building in the world. The landing was not perfect in any way as we came in a bit skew but we got down at least. As we had been delayed out of London we only landed at 3.30 AM and we missed our connecting flight to Bangkok
Here is a YouTube video with a summary of the Emirates experience:

When we got out of the plane in Dubai there was lots of chaos as the plane had arrived late and many had missed their connections (like we did). We started by going to an Emirates counter and after a while in line we got instructions that a hotel was arranged but as it was outside the airport the guy we talked to did not recommend it as it would take some time to get there and as we had a new flight in only 5-6 hours he recommended that we should stay in the lounge instead. We also asked if it was possible to change the ticket to get directly to KUL instead of via BKK (we had chosen this route due to a meeting in Bangkok on the way home) but this was not possible. We were also a bit worried about our next connection (from BKK to KUL) as this was not connected to our Emirates flight.  In order to try to fix this we walked through terminal 3 to terminal 1 but none of the ticket counters were open in the middle of the night so we gave up and retired in the lounge in terminal 1. I guess we should have chosen the lounge in terminal 3 as that looked newer and bigger but we were fed up with walking and the lounge in terminal 1 was very close to our gate for the next flight. The Dubai airport is getting very big by the way and the design is a bit like BKK airport.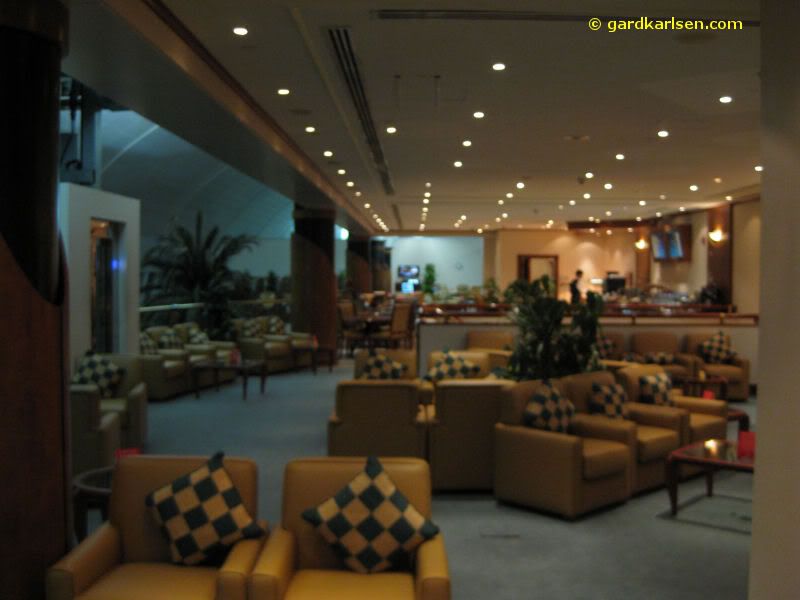 In the lounge there were no sleeping facilities and we just used the cushions from the chair to make up a couple of beds on the floor. But we didn't get that much sleep – at about 6 am the activity picked up on the airport and they started announcing many of the flights (in both Arabic and English). In the end I gave up on the sleeping and moved over to drinking coffee and surfing the net
We walked over to our gate at 8 am and when we got our new boarding cards we noticed that we had been upgraded without any notice. This means that we got bumped up from Business to First class on our flight EK418. After a bit of waiting we boarded our Boeing 777 and it seemed to be a bit older model but that didn't really matter. I had seat 1E on this leg.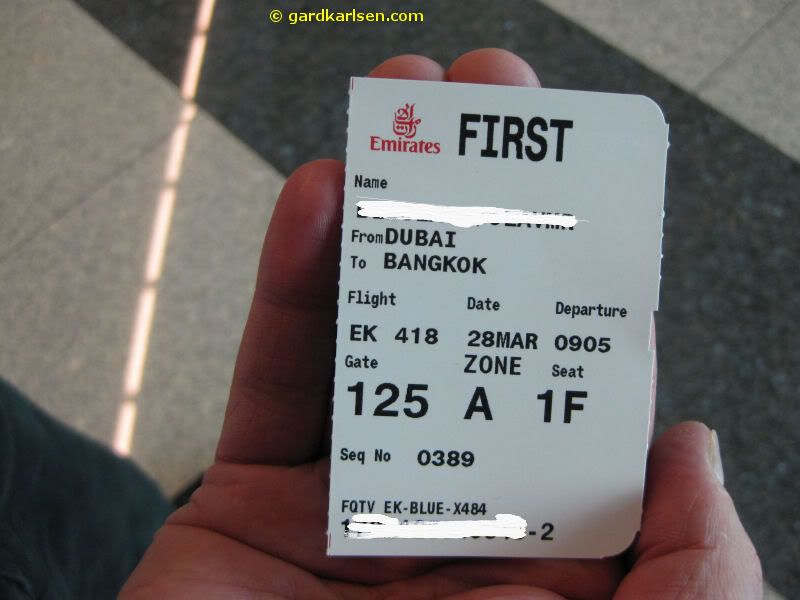 When we found our seat there was already a bowl of chocolate in place and the noise cancelling headsets were in place already. Each seat had a small "bar" with water, juice, soft drinks etc. After this we also got a towel, a new toiletry bag (a bit nicer than the previous one but with the same contents), slippers, menus and pyjamas of course.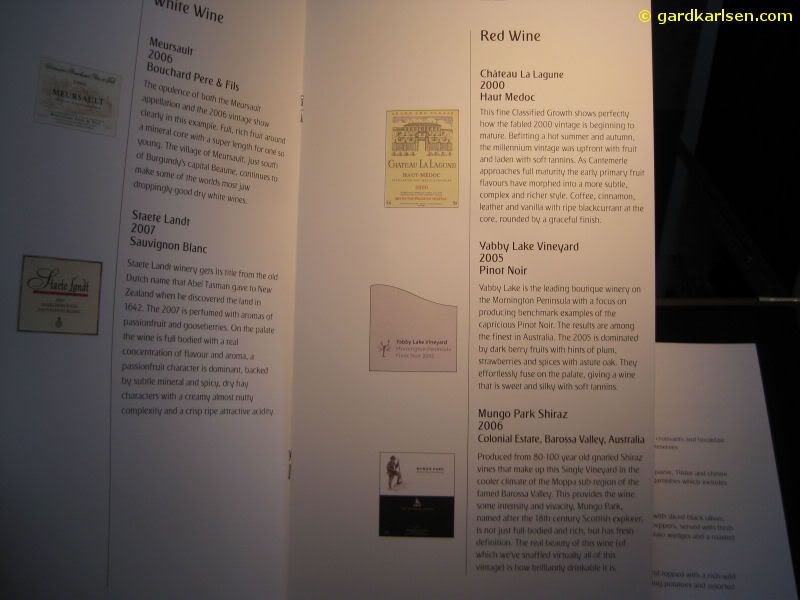 So then we were at it again so to speak – how can you resist when they are serving a Moet & Chandon Dom Perignon 2000 even if it was only like 9 am. It is a hard job being a "journalist" for these kind of flights but I guess someone has to do it.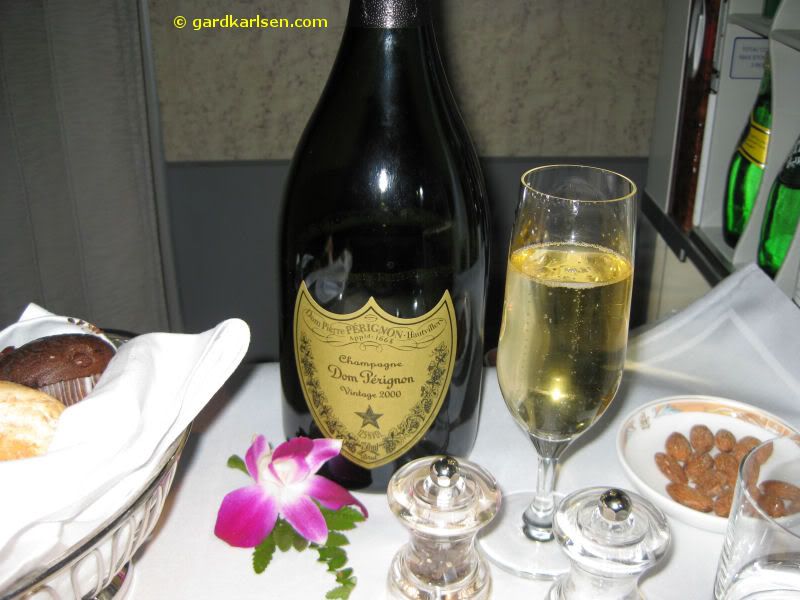 The first class seat was pretty good and the table that was folded in front of me when eating felt like it was a square meter. I also had a big screen (17" I think) with the ICE system which is excellent. This can give you hundreds of channels with movies, TV, music, games…all on demand of course. But I think what was most surprising for us was the notice from the crew saying that there was no schedules for meals, drinks etc. The serving was on demand in other words and we could order stuff from the menu whenever we wanted. This is a bit weird when you are just used to getting food when the hosts served it. We started with some more champagne and nuts – my host spilled quite a bit of champagne on my pants by the way and that was of course a bit of a let down. I could see where it was heading when he started pouring but strapped in the seat it was hard for me to avoid it when it started spilling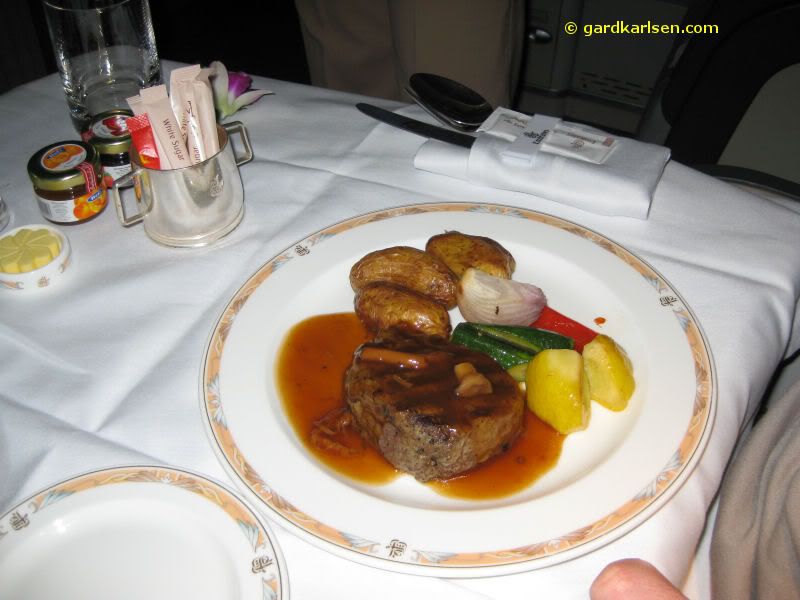 As it was morning I went for the omelette while my colleague when straight for the steak. After a while the dishing up started with a bread basket, salt and pepper grinders, cutlery etc. We also got some fruit to start with and then I got the omelette with potatoes, mushroom and vegetables. After this I went for a cheese platter and I had the option of a sauterne or a port wine from 1985. I went for the sauterne and as you can see from the photo the host was quite generous with the potion – was that half the bottle that went into my glass? :;-)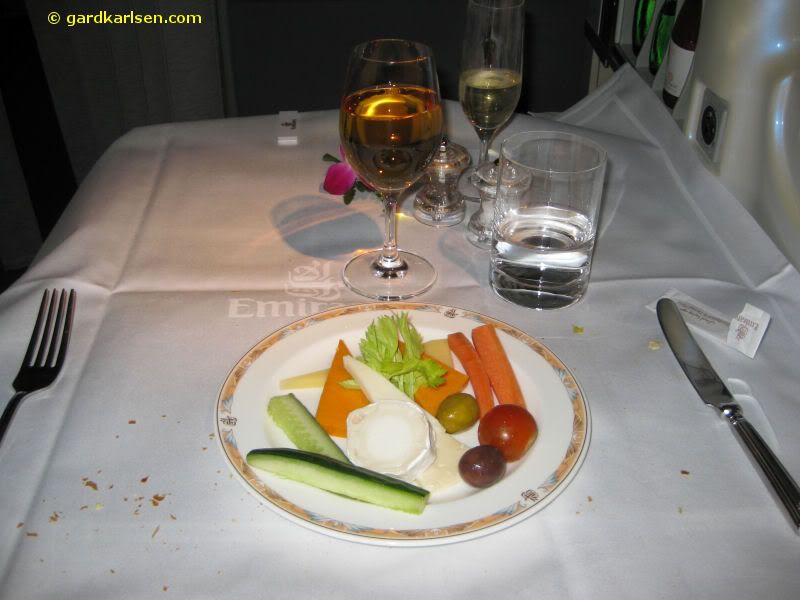 To round it of I had some coffee, Baileys and Godiva chocolate. I think I can summarize it by saying that the meal and experience was great.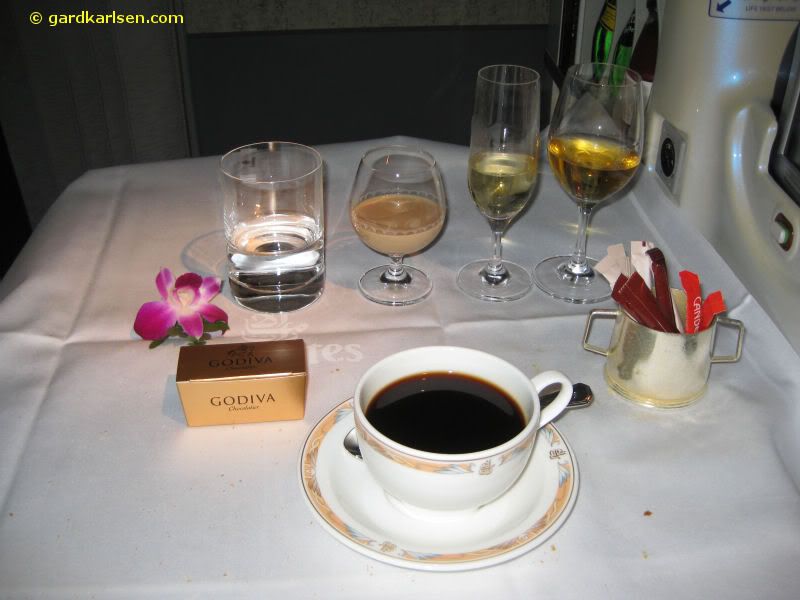 As I didn't get that much sleep in Dubai and after a bit of drinking I was getting a bit tired so I reclined my seat and it was pretty much flat. My host also put a top madras on the seat to make it softer. The toilet was not that great by the way and it was quite tiny so I'm not sure where you are supposed to change into the pyjamas. I got to sleep a couple of hours and when I woke up I thought to myself that I wouldn't have minded it if the flight was longer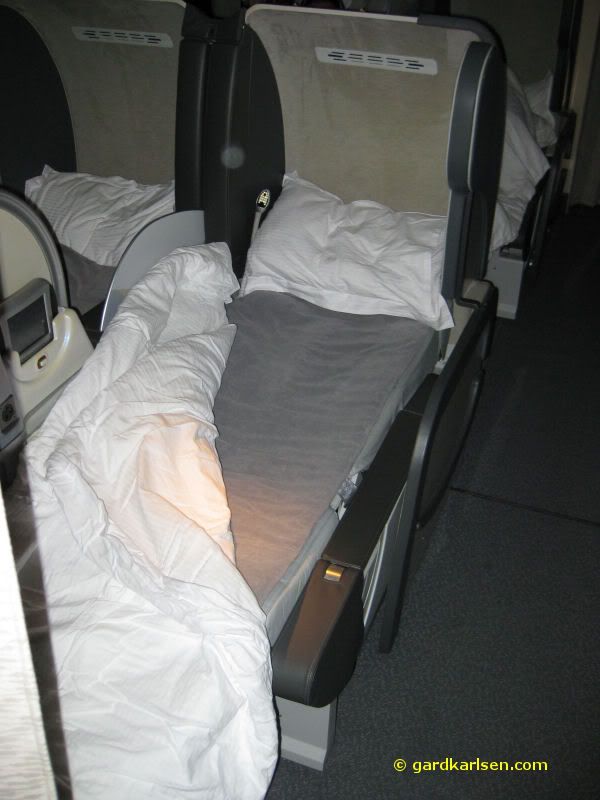 After a 5 ½ hour flight we landed in Bangkok at about 6 PM local time. Once again we had a landing that was not that great as the pilot slammed the plane down on the runway there was also a pretty noticeable bump as the nose wheel touched the landing strip. But maybe it is just me that are not used to sitting this far towards the front of the plane
At BKK airport we went to the Thai ticket service to see what we could do about the flight that we missed to KUL. They informed us that we could change the ticket for the same flight the next day – so we called the hotel in KL and said that we would be one day late and we got into a taxi and drove into Bangkok – a night in Bangkok is always fun
When it comes to Thai I wish it was simpler to use points from SAS to upgrade. It should be easier to use points across the boards within the StarAlliance. I know that it can be done today but it just seems to be quite a hassle today.
That is the end of this trip report. The next day we flew to KUL in an Airbus 340 on economy. I plan to also make a summary of the trip back home again.