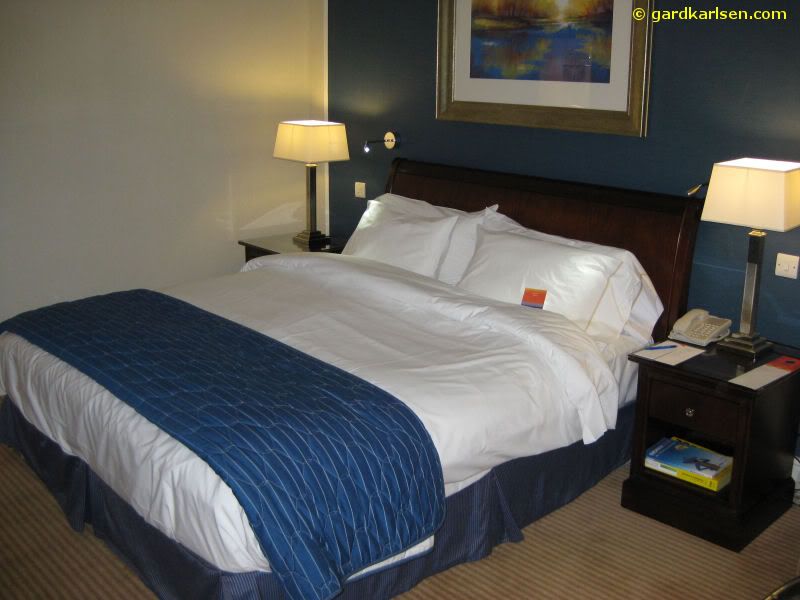 I stayed at Sheraton Skyline hotel at Heathrow in London in the end of March 2009. It is actually not the first time I stay here…I stayed here for one night in 2005 when I was in transit on my way to Rome in Italy. Back then we were amazed by the bed in the hotel and it was time to check it out again in connection with a work trip to Malaysia.

The Hoppa bus service brings you to the hotel from Heathrow within 5 to 10 minutes and cost £4 per person. The check in was fast and I got room 3035 which was a club level room – the rate was about £105 including breakfast.The room itself was quite nice when entering. The walls in light wall paper, the floor in a light brownish, striped carpet, furniture in dark wood etc. The first thing that I noticed the last time I was here was the bed…which we found fantastic at the time. Sheraton brags about their Super Sleeper bed and even has a trademark on it. And I enjoyed the bed this time around as well – it really is a comfortable bed in my opinion.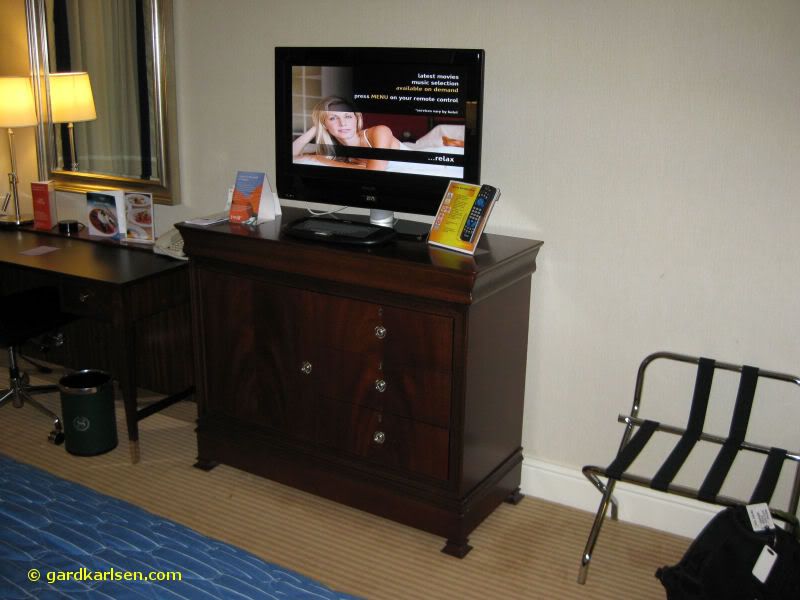 Apart from that there was a work desk with a plug adapter that could handle most plugs (but internet still at a charge), a sofa and table, a nice flat screen TV on top of a dark wooden furniture that included at mini safe…the TV can also be used to get online on the internet at a cost by the way. There was also a mini bar with a selection of drinks (Coke was £3 and beer £4) and a wardrobe with hangers, an iron and ironing board.
The bathroom is pretty nice with a bathtub with shower curtain to allow showering. I don't really like the shower curtain option and even if it was a two layer deal it can still lead to a lot of spilling of water on the floor. But apart from that it looked nice with dark tiled floor, light tiles on the walls and a black granite top for the sink area. There were also lots of amenities including the usual shampoo, conditioner etc…but also a scrub, shower cap, sewing kit etc.
We had dinner at the Al Dente Italian restaurant and the buffet was £22 per person. The Milanese risotto had the right taste of saffron taste but lacked the taste of good stock in my opinion. They also had a nice selection of red wine by the glass and a glass of rosso del Montalcino was £11.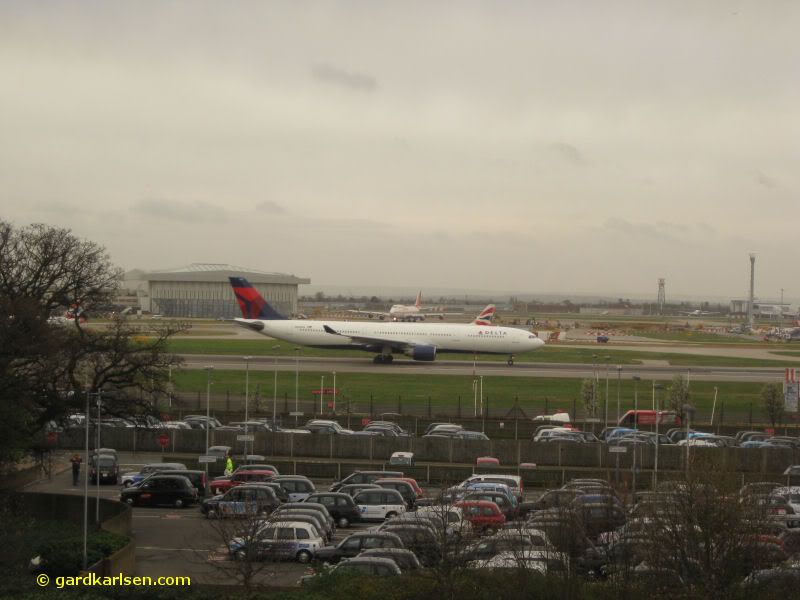 The lounge for those located on club level is located in "room" 3017. The lounge was small but cosy and the girl that was working there was just fantastic…full of energy and smiles. It can boast free drinks (wine and soft drinks), snacks and free internet. The breakfast was also served there for the club level guests. Even if the lounge was quite small they managed to whip up a breakfast that should be sufficient for most people. I just ate my regular stuff…muesli with fruits and berries.
Conclusion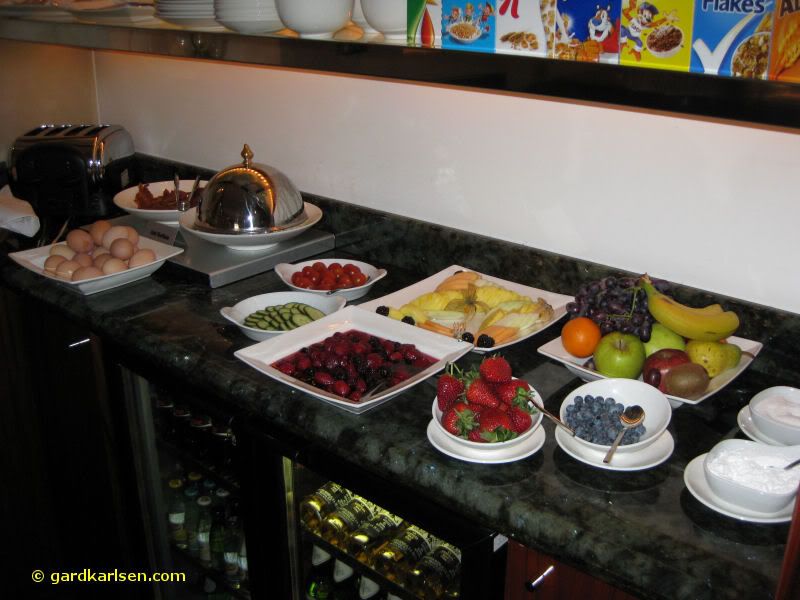 If you are looking for a nice airport hotel and want to stick to the Starwood program than I think Sheraton Skyline is a good choice. But as it is located at the airport it will really never be anything else than "another airport hotel". But the bed were great, the lounge staff was nice and you get a great view of the runway if you are into plane spotting.
Check out the hotel homepage for more information.