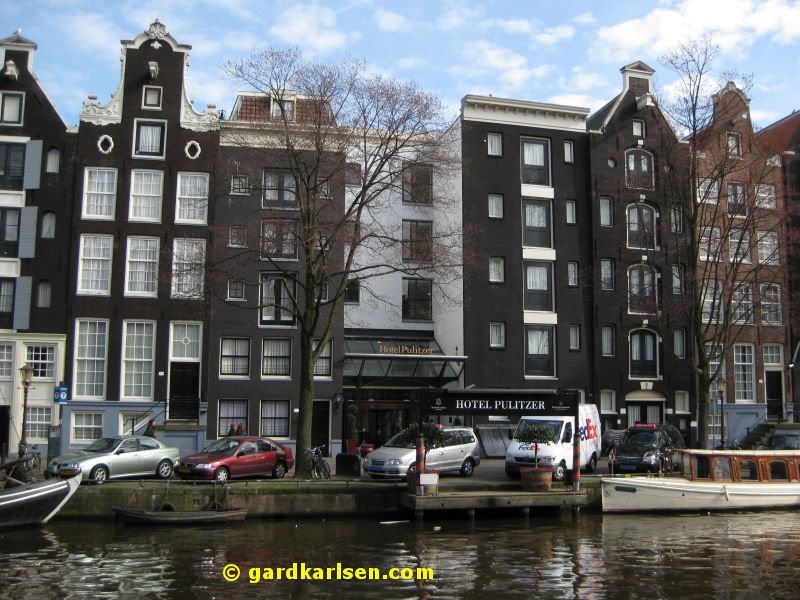 I stayed at Hotel Pulitzer in Amsterdam from March 16th to March 18th on a work trip to the city. I went for this hotel as they could offer a good deal on 2 night stay and as it was a Starwood hotel and I'm in the Starwood Preferred Guest program. I had to pay 207€ per night for the room. I have been to Amsterdam before but I had almost forgotten how charming this city can be. Nikki and I went there in 1999 and it was one of our first vacations together after she came to Norway. Here is a trip report from back then http://gardkarlsen.com/amsterdam.htm .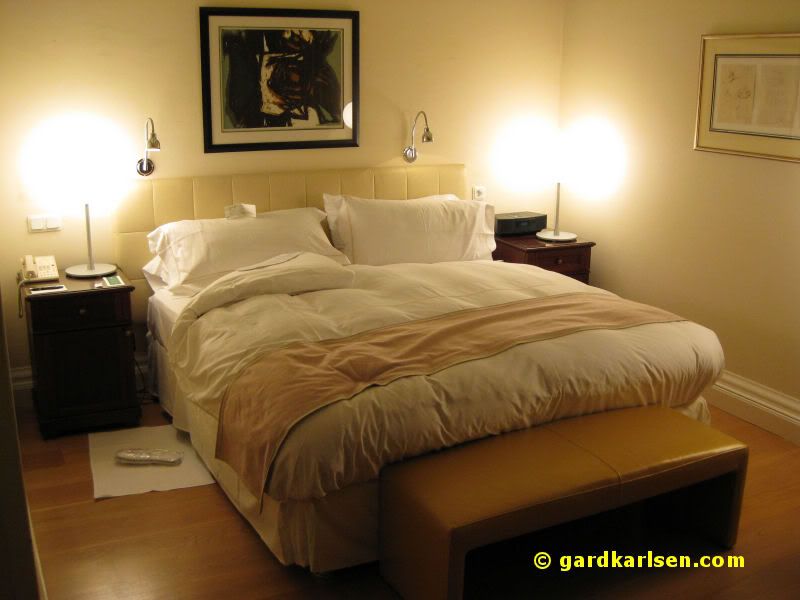 First of all: you got to love the internet. Yes, I did book the hotel through the internet (on the Starwood page) and I also used http://www.maps.google.com to check which was the nearest tram station and which line would service that station. So when I arrived at Schiphol airport I took a train into downtown (centralstation) and from there I jumped on the right tram line and jumped of at the right station…it is Westermarkt by the way
When I arrived, the check in was fast and I got room 331. The guy that checked me in was very helpful and pulled out a map to show us where we were located and I also asked if he could recommend a restaurant near by and he booked a table for me at Moeders (Mothers) – but that is a different story.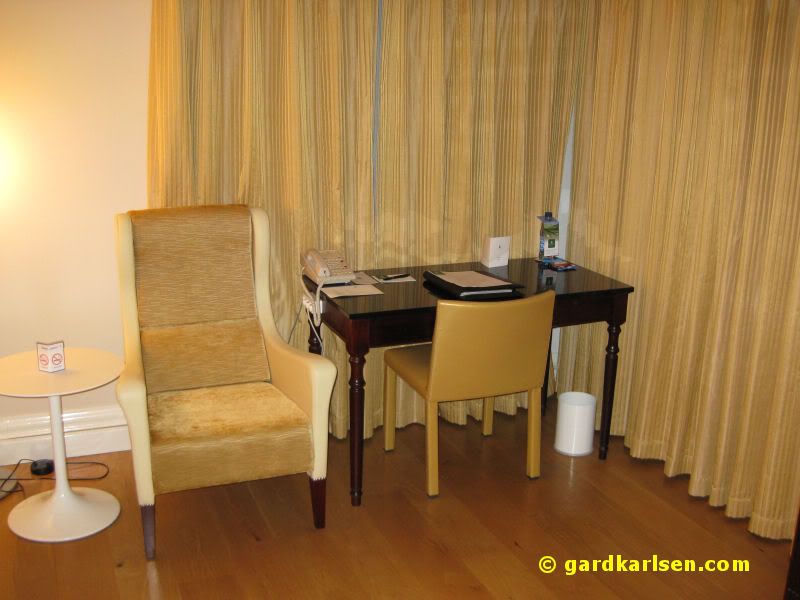 Room 331 is located on the 2nd floor and the first impression when walking in was quite good. At first glance it was a room with light wooden floors, light walls, golden curtains and big beams in the ceiling. It is also located right next to a canal so the surroundings are quite picturesque – not that I got to experience much of that as I got windows facing a courtyard
When I first came in I had a lot of problems figuring out how to turn on the light. But after fiddling around with the light switches I finally figured it out. The room was dominated by a huge bed which turned out to be very comfortable – it even had a proper duvet and some nice pillows.
Apart from that there was a nice flat screen TV on top of a mini bar. But as always in hotels the prices are ridiculous – 4 € for a Coke, 6.5 € for a Heineken are just a couple of examples. There was also a wardrobe with some hangers, a mini safe, a holder for a suitcase and of course a work desk with a couple of chairs. I did try to activate the air-con by the way as I like to have it cool when I sleep but that did not seem to work. Maybe it is only in operation during the summertime. This made the nights a bit warm for me as the duvet was quite thick. I could have opened a window of course but note that there is a church nearby where the bell tolls like every half hour even throughout the night so if you a sensitive to sounds, be aware.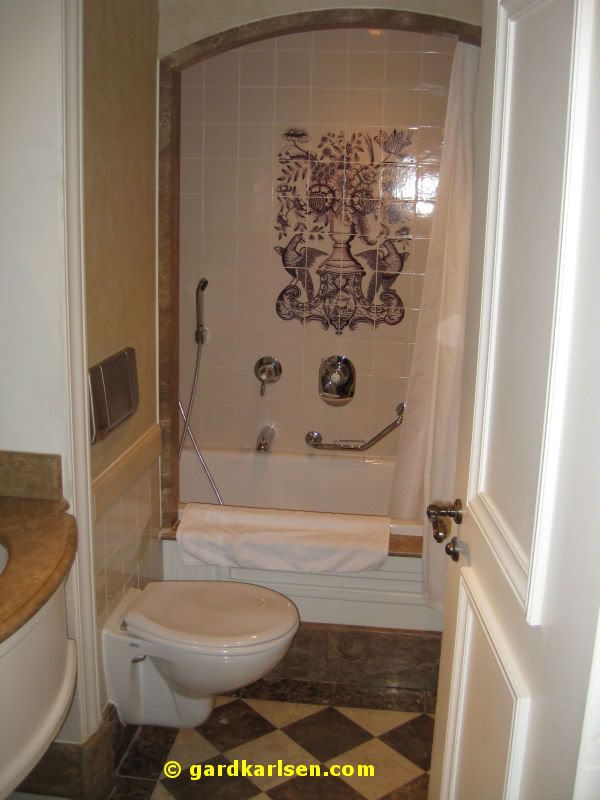 The bathroom seemed pretty small to start with but it was not bad at all. It was tiled in various colors, there were heating in the floor, the towels were big and fluffy and the shower curtain option was not too bad (but I still don't like the shower curtain option to start with). There were not that many amenities – only the usual shampoo, conditioner, shower gel and lotion. When it comes to the bathtub/shower…I wonder how many really take a bath when they stay for a couple of nights at a hotel. I seldom use the bathtub option and in this hotel I would much rather have a better shower option than the bathtub but that's just me I guess.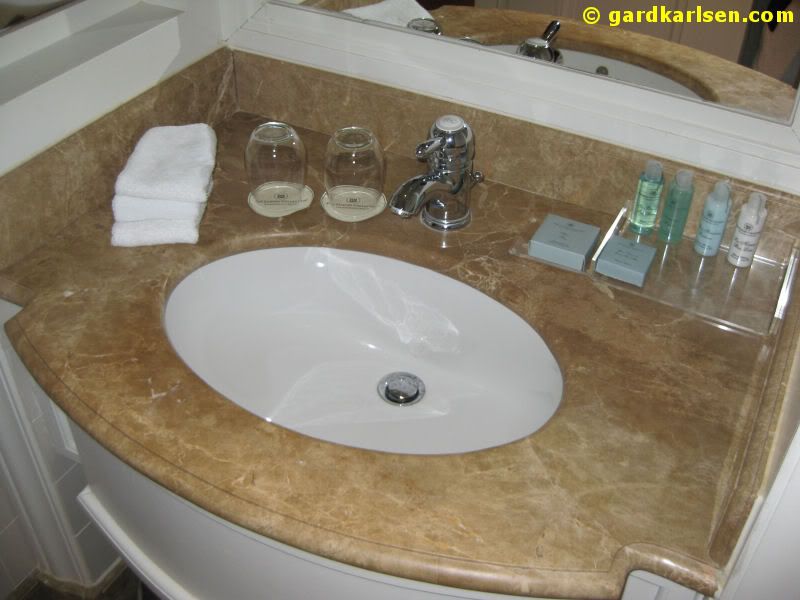 I only stayed at Hotel Pulitzer 2 days so it is hard to give them a proper verdict after such a short time. It seems to be a nice modern hotel in an "old shell" as it is located in an old refurbished Amsterdam house located right on the edge of a canal. But being here on business I would have loved to have stayed connected by having access to the internet. But access to the net was not complimentary and came at the price of 19€ for 24 hours or 35€ for 48 hours. That is just ridiculous if you ask me.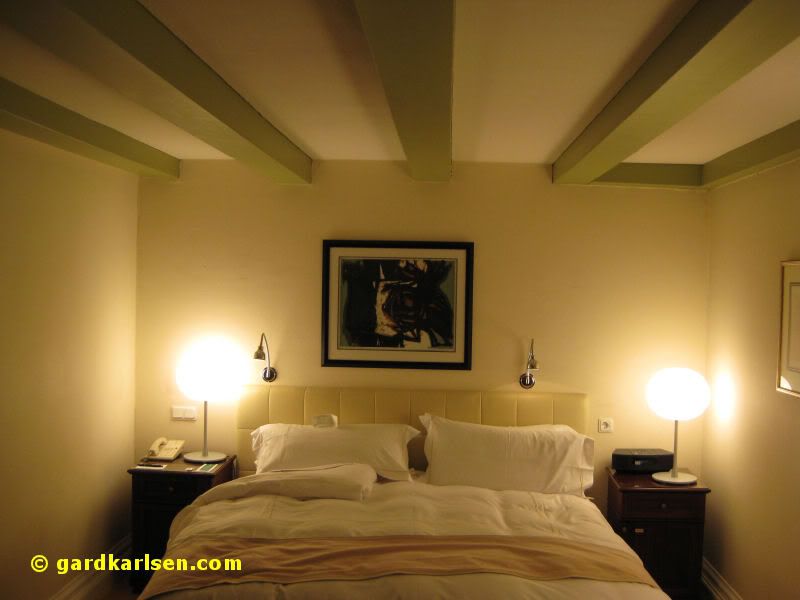 Another thing that is insane is the breakfast prices. A full breakfast cost 29€!!! I'm sorry that I sound stingy but there is only so much a person can eat for breakfast and I doubt that anyone can eat for 29€. Another thing that surprised me was the price. I think I paid about 200€ per night for the hotel room but that was without breakfast: I think with breakfast it would be about 270€. So it is actually cheaper to book the room and then buy the breakfast separately – how silly is that? On day two when I came to breakfast the guy at the reception was quite laid back – so he told me to just grab something to eat and then tell him on the way out what I had eaten to determine the price. So after 10 minutes I walked up to him and told him that I had a banana and some cereal and a glass of juice (which is my regular breakfast) and he was like "Is that all? Get out of here". So I didn't have to pay anything. Again I wonder how many people actually eat a lot at breakfast at hotels like this. A business travel can't stuff himself/herself full of food every morning when traveling.
But all is all – I would not mind staying here again. The location of the hotel is not bad as you can walk to Dam within 10 minutes, the bed was huge and comfortable and the room was modern and looked great. The staff was very helpful and approached me very fast when I was looking for help. So all the staff ranging from people in the restaurant, the reception staff and porters were all excellent.
To round of I would just like to recommend Amsterdam. I went there on vacation a few years back and I enjoyed it. But I had almost forgotten how charming this city is – after this trip I would like to return once again on vacation to re-discover it. So if you have a chance to go here, don't hesitate