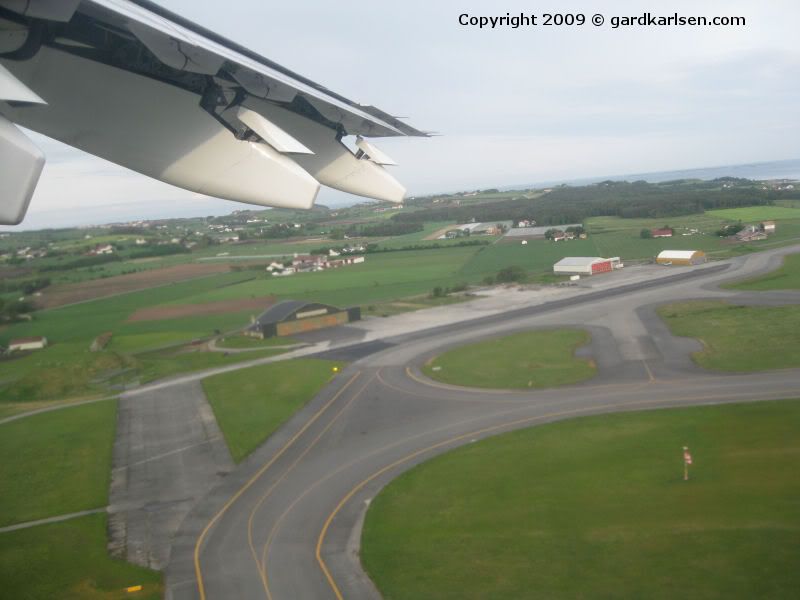 This is a trip report from a trip to Dubai with Lufthansa. We bought these tickets when we came across a great Lufthansa offer a few months back and the price was just to good to turn down. We got the tickets for 2800 kroner (about 420 USD) per person for a round trip from Stavanger in Norway and that is almost half the price of what you normally see. We did go to Dubai in 2002 and you can read that trip report here. I'm also planning on making a new proper trip report…this trip report will focus on the flight to and from Dubai.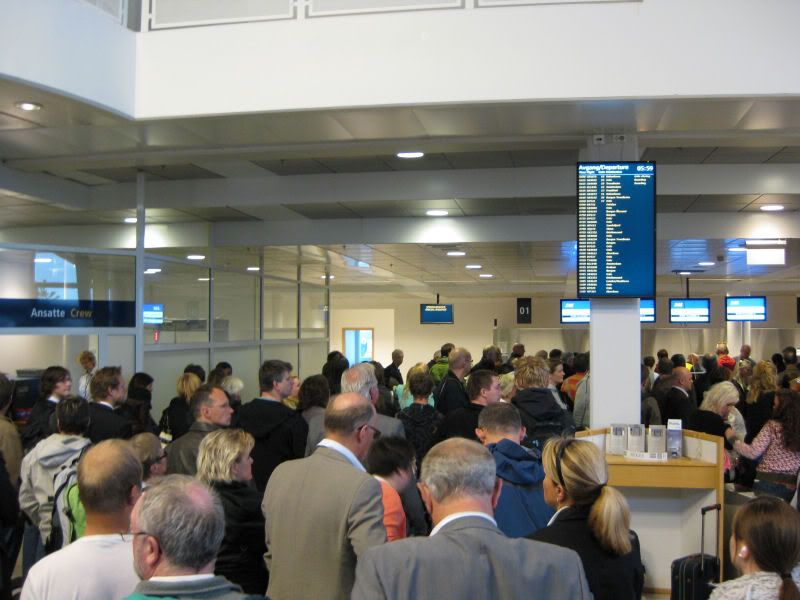 We started our trip on May 20th 2009 at the crack of dawn. We had LH3163 from  SVG to FRA at 06.35 amso we got to the airport about 1 hour before departure. But when we came into the terminal building we only found chaos. It turned out that the baggage belts were causing check in problems so the lines grew rapidly. We did check in at the self service machines but then we had to get in line for the baggage drop. The SAS lady could have pointed us to the business line at least as she saw that we both are Eurobonus gold card members but she didn't. But we found the business line after waiting in line for a bit – not that it mattered that much as this line was not really moving at all. I didn't think we got sufficient information and we only got to check in when our flight was starting to blink "Boarding". It is really a miracle that the baggage made it on the flight. There should have been a system for checking in the passengers with the earliest flights but I guess it is easier said then done. We did make the plan and I hope that I'm forgiven by my fellow passengers as we had to cut the line at the security control.
Our flight from Stavanger to Frankfurt was with Eurowings in a Bae-146 and it took about 2 hours. The flying conditions were great and we got a great view to all the nice beaches outside Stavanger after take off.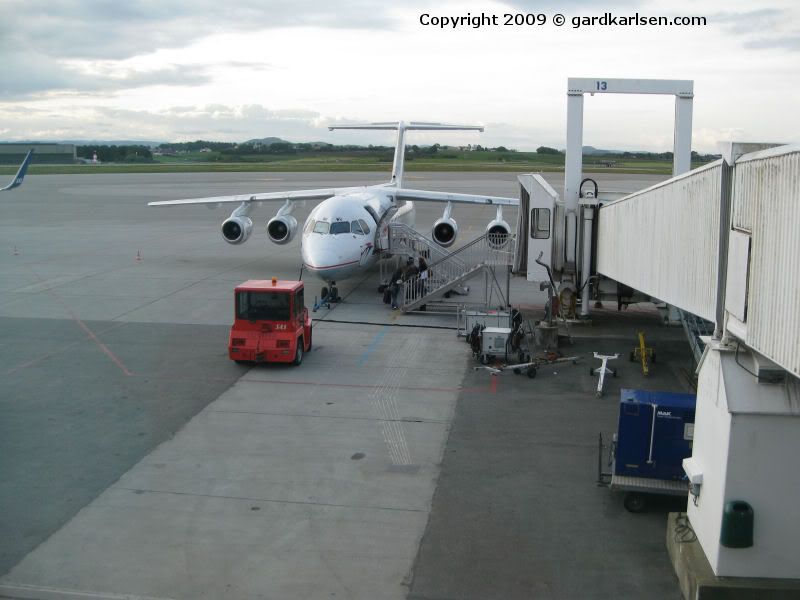 The breakfast on board the flight was a small sandwich but as we were flying on economy and were seated all the way in the back we did not get the option between ham or cheese when the FA reached our row.
But hey, a sandwich is better than nothing.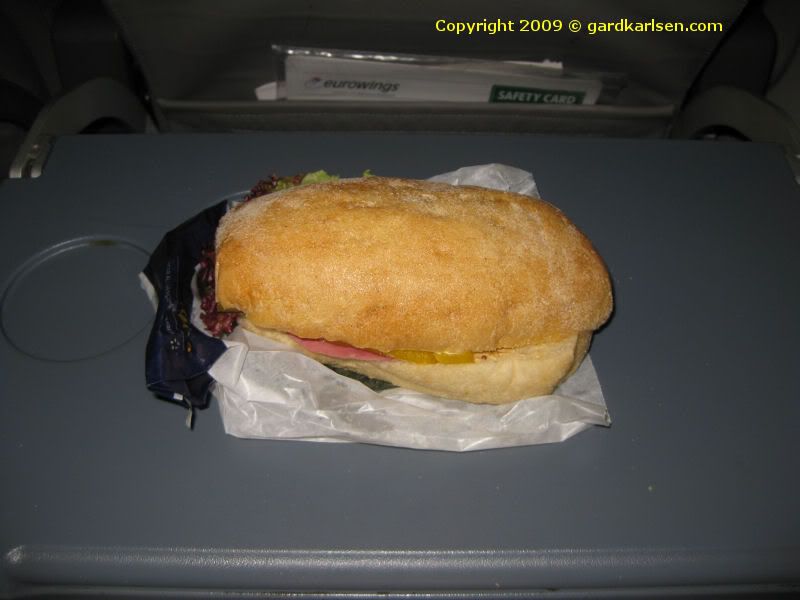 The weather was also great when we landed so once again we got a great view…this time to downtown Frankfurt a few minutes before landing.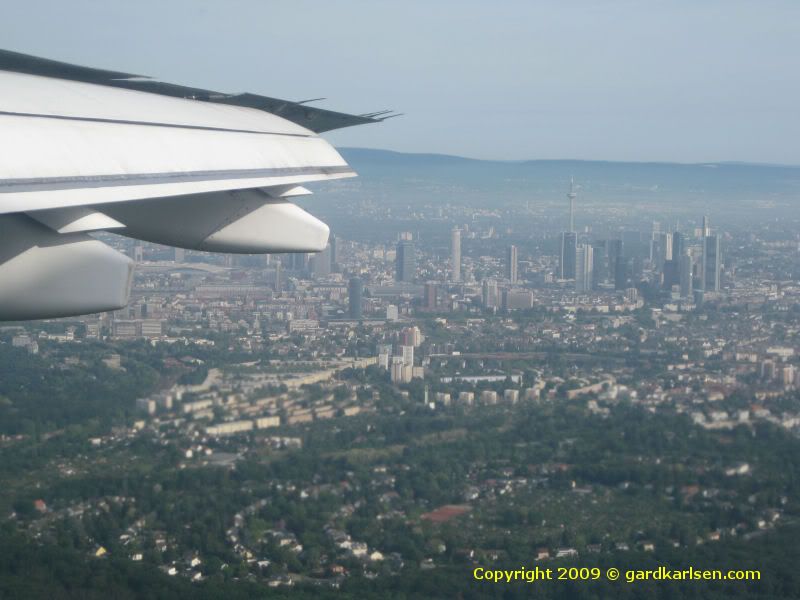 As we had a few hours before our next flight, we decided to take a trip into Frankfurt to kill some time. Luckily it was easy to get out of the airport and we were out of the place in just a few minutes….we must have been lucky with our gate
We found a place where I could store my backpack and from there we took a train into downtown Frankfurt for about 4€ each. The town looked pretty nice and I would like to go back to spend a weekend there.
At about noon we went to back to the airport and we went for the Sentator loung in the B section of the airport. I'm not that impressed with the lounges at Frankfurt – the lounge that we went to was very crowded and it was hard for us to find a seat and to start with we had to sit on bar stools. We did get a table eventually but there were not many good seats available.
And I also think it is pretty lame that they don't offer free WiFi in a business class lounge. The selection of food was not that impressive either but at least they had some hot dogs on the menu and a selection of beer and wine.
Finally it was time for boarind and we walked over to our gate and went on board in our 747-400 where I had seat 38C.

This Lufthansa plane did not have a personal TV screen in each seat so we were stuck with the old CRT TV hanging in the ceiling. I'm not too impressed by this of course but on a short flight like this it was not a problem. I think I had a larger personal TV screen when flying Emirates business class compared to the ones hanging in the ceiling of this 747
. I went to a Lufthansa presentation a few weeks back and they said they are working on introducing personal TV screens on all their long haul planes so I guess it will come eventually.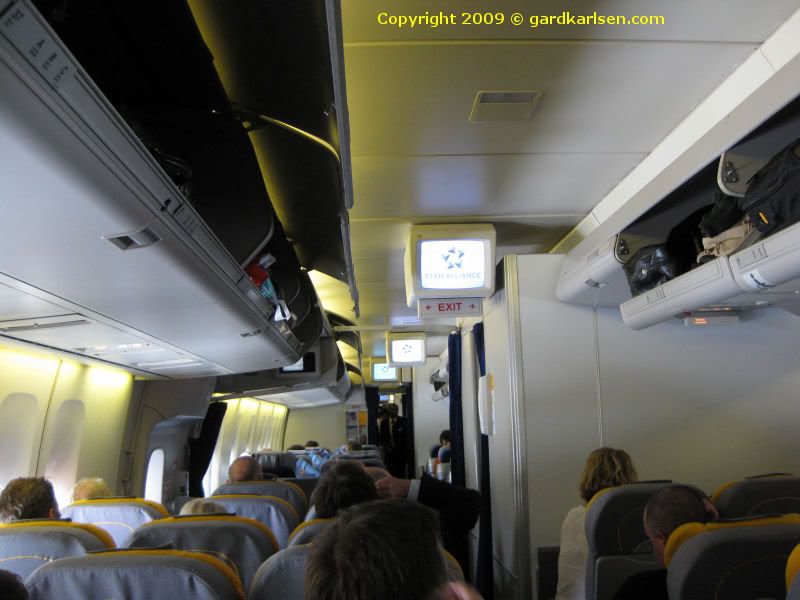 I find it strange that they don't show more stuff on the TV by the way – I think they only showed some news, then there was a broad and "exciting" summary of a couple of soccer games in the German bundesliga and then the movie Mall Cop. Nikki went for the chicken and rice when dinner was served and I went for the beef stew and that was very nice.  LHis good when it comes to refilling the glasses and I enjoyed red wine together with the food and coffee and Baileys for the dessert. It is amazing to see that they drag along Warsteiner beer on glass bottle on board the flight – you don't mess with good beer in Germany
The flight to Dubai (DXB) took only 6 hours and we landed in Dubai at about 11 PM. At the gate we were met by a lady in a bright yellow jacket holding a poster with Nikki's name on it. This is a part of the Marhaba (http://www.marhabaservices.com/source/index.aspx) service and it is a meet & greet service to get the wife faster through some of the lines as she has to go through a bit extra due to her South African passport. We even got a small car to take us to passport control at the airport. The lady from the Marhaba service and the guy that took care of our baggage walked us all the way out to the taxis outside the airport. Great service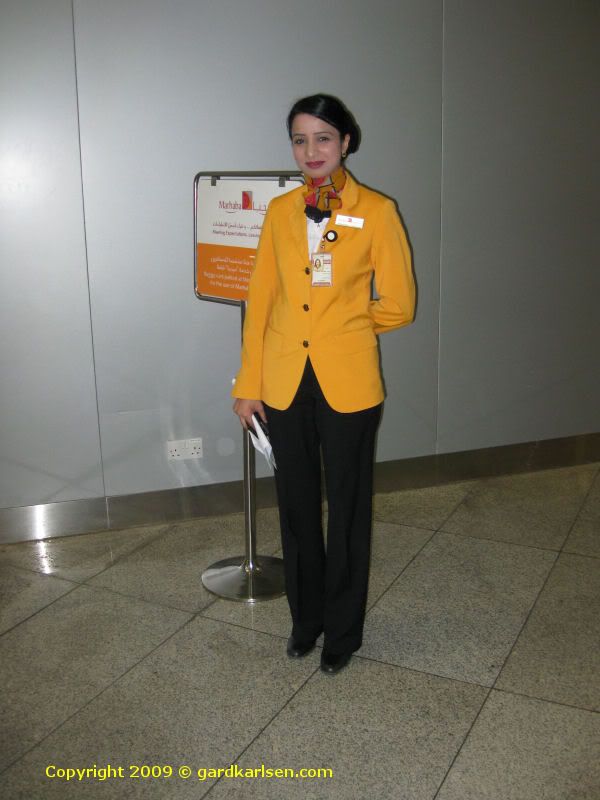 If you want to see some photos from Dubai feel free to check out my blog on  http://gardmobile.blogspot.com/search/label/Dubai The Dubai trip report will be posted on http://gardkarlsen.com eventually
****************************
The trip back home started at the crack of dawn on May 25th. We were transported to the airport in the hotel limousin – a BMW 730i and it didn't take us long as there was more or less no traffic this early in the morning. We checked in for LH639 and walked over to the StarAlliance lounge by gate 126 if I'm not mistaken. The lounge is more or less a joke as it is tiny, it has few seats and the only separation between First and Business is basically a wall. Nikki was joking that the only difference between First and Business class in the lounge was that First had access to cornflakes cereal
But we did get some breakfast in the lounge as the had some tiny club sandwiches, some orange juice and a coffee machine.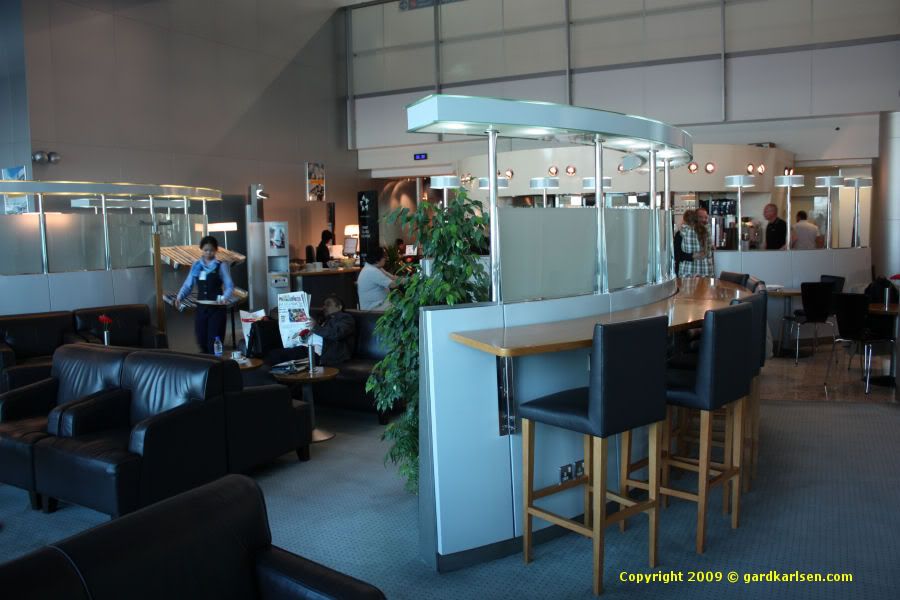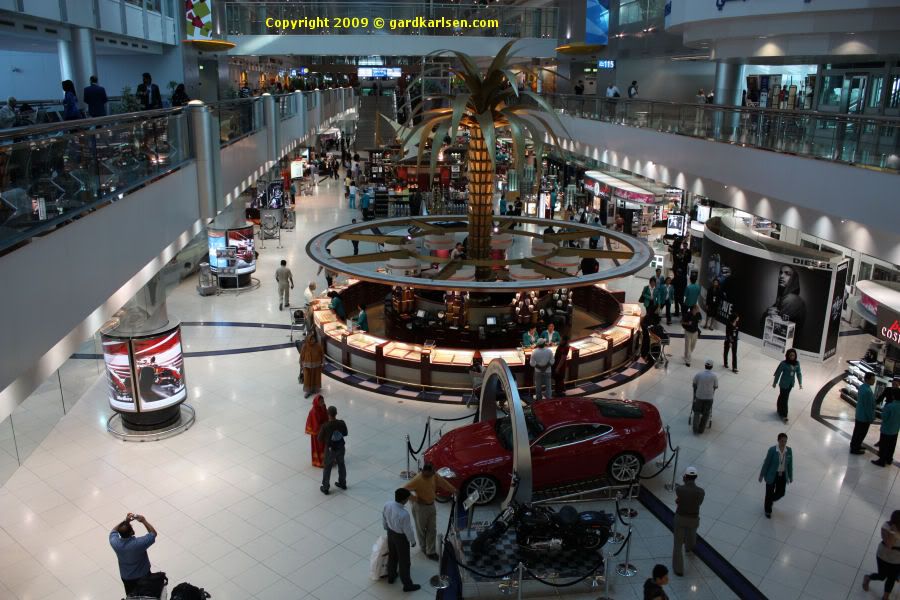 Our flight was departing from gate 115 at o7.45 AM and this time it was an Airbus A340 – I was hoping that this would involve a personal TV screen but unfortunately not. We were seated on row 45 (second last row) and it was a 2-3-2 configuration. We were hoping to get two seats by ourselves on one of the sides of the plane but that seemed to be impossible – did we check in too late? Maybe I have two high hopes for what the Eurobonus gold card will fix for us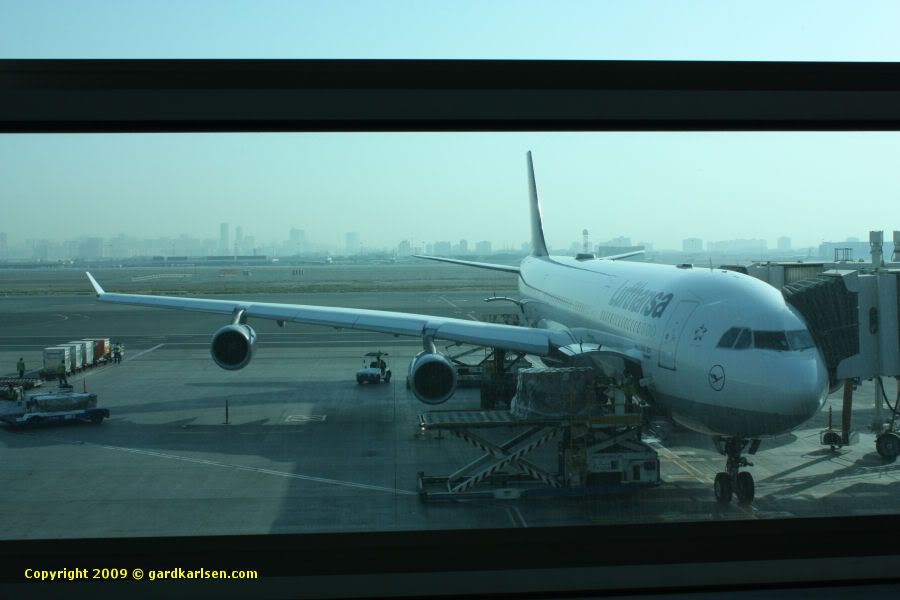 We got a small sandwich after takeoff and when they reached our row they were out of options and we got the vegetarian sandwich which was pretty horrible. Once again there were CRT screens in the ceiling and once again we got some news, more soccer news from the German bundesliga…and the great finale was the move Mall cop…I guess they felt it was so great that they had to show it both going there and back again. Well, I fell asleep during the movie both times so I still haven't seen it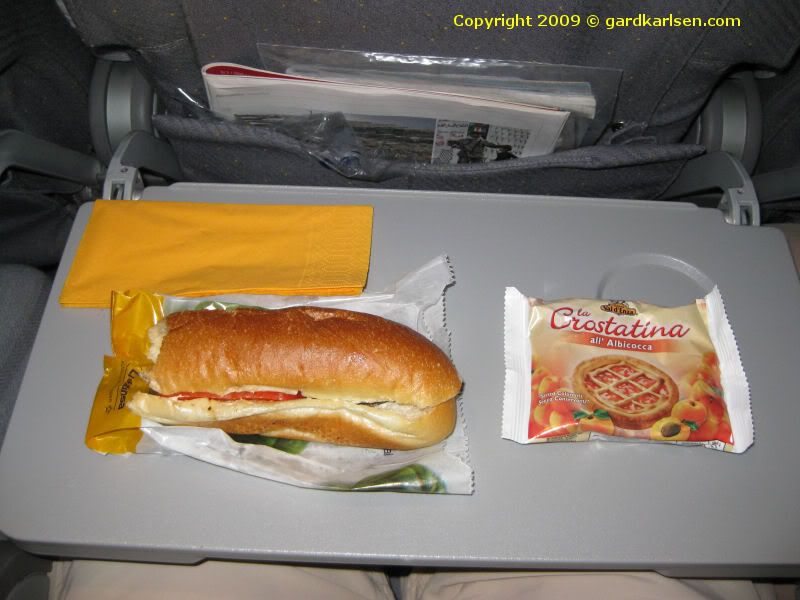 As we didn't get our choice for breakfast, we were informed that we would be able to choose dinner. I went for the chicken and rice which was good. But once again they ran out of options and the FA had to spend time and energy explaining to the passengers that pasta was the only option. They used a loooong times to serve drinks before dinner by the way. There was only one trolley in each aisle in economy class and I think they used about 40 minutes. I also got the impression that this was to order what we wanted to drink for dinner but that was not the case.  Because after dinner was served they started serving drinks once again and once again it took "forever". They actually started running out of time and my tray was basically removed while I was in the middle of dessert.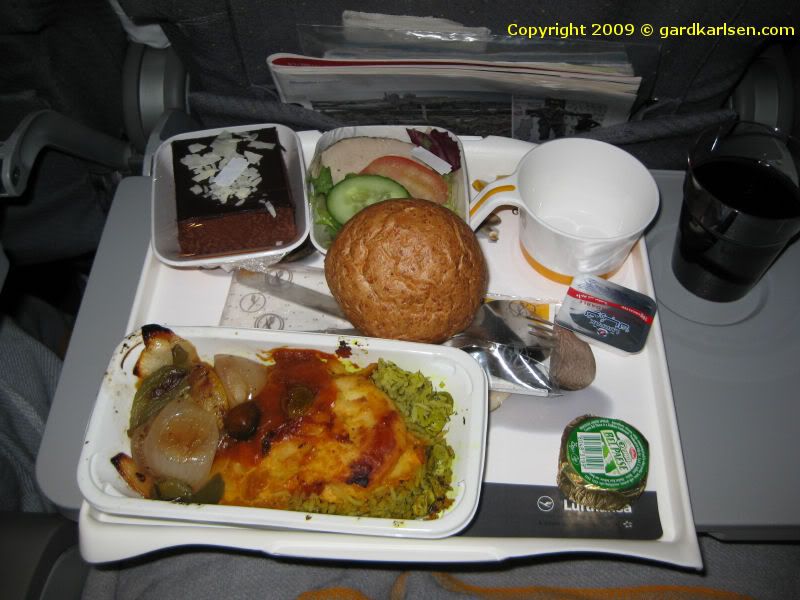 We landed in at about 11 AM and we had to go through passport control to enter into the Schengen area. Due to this we had to go through check in and security control and for the first time in my life I had to bring out my cameras to show that they were indeed cameras.

We only had a short stop in Munchen and we just made a short stop to the Senator lounge to see what it looked like. It was nice to see that they have a Senator cafe where they have more focus on food.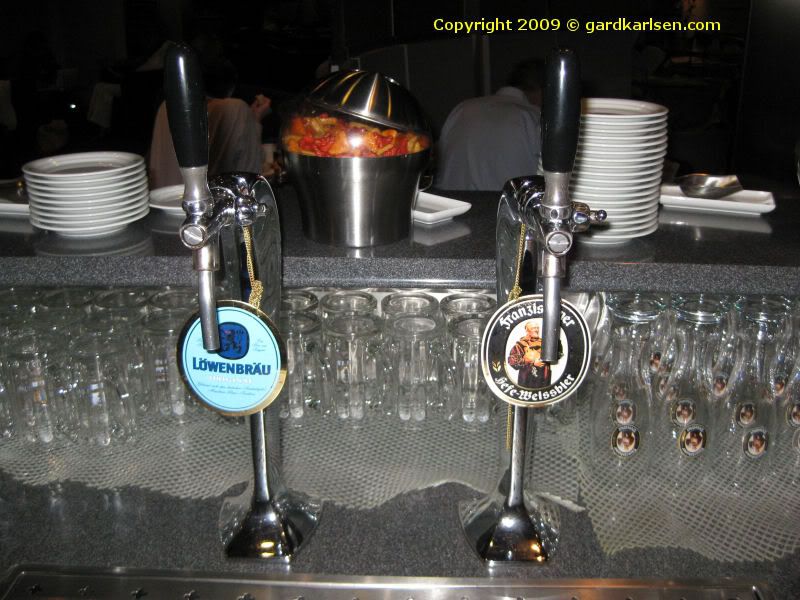 At 13.45 we went with LH973 to Frankfurt. At the gate it was possible to help ourselves with coffee and tea before boarding the plane
We had an Airbus A320 and the flight to Frankfurt was only 50 minutes. Once again the weather was great and we got a nice view to the airport as we were airborne.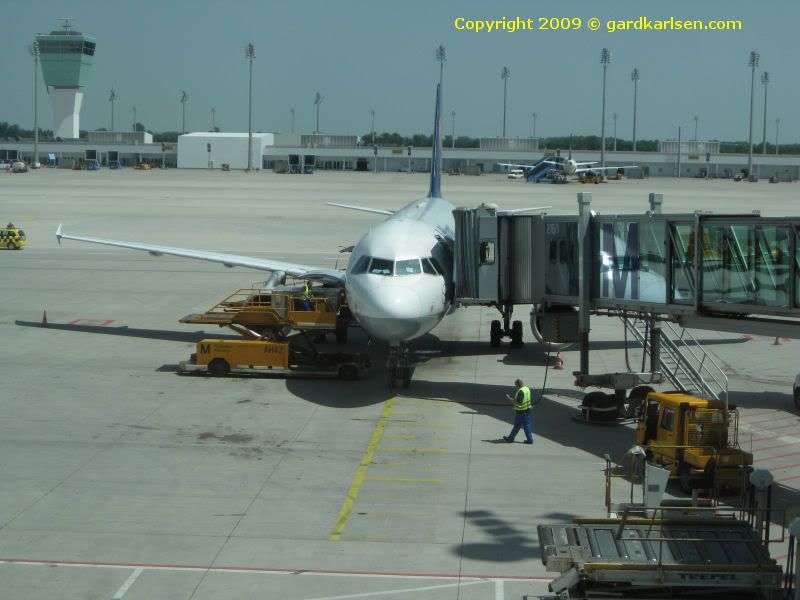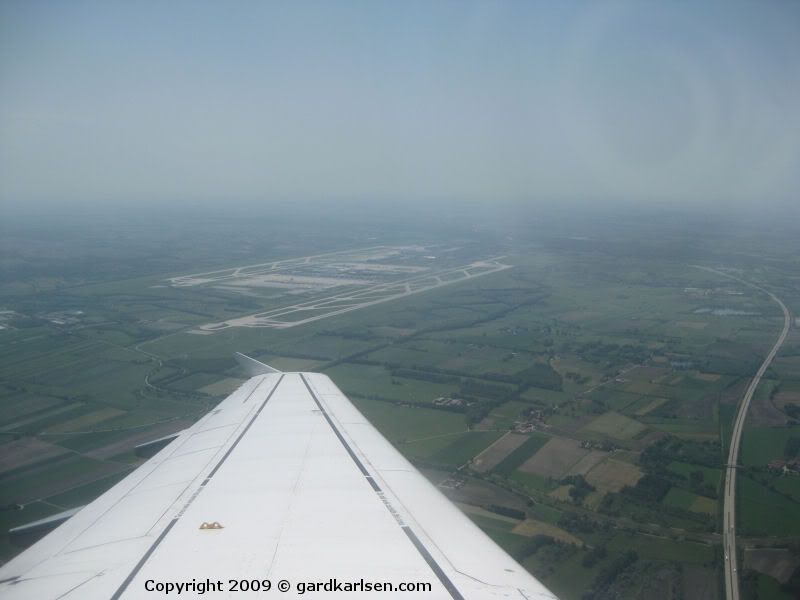 We did not have that much time in Frankfurt either but we waited in the Senator lounge in the A pier. This lounge actually looks better than the lounge in the B pier as it was bigger, better views, better choice of food etc I tried to take some pictures but I was informed by one of the staff that this was not allowed.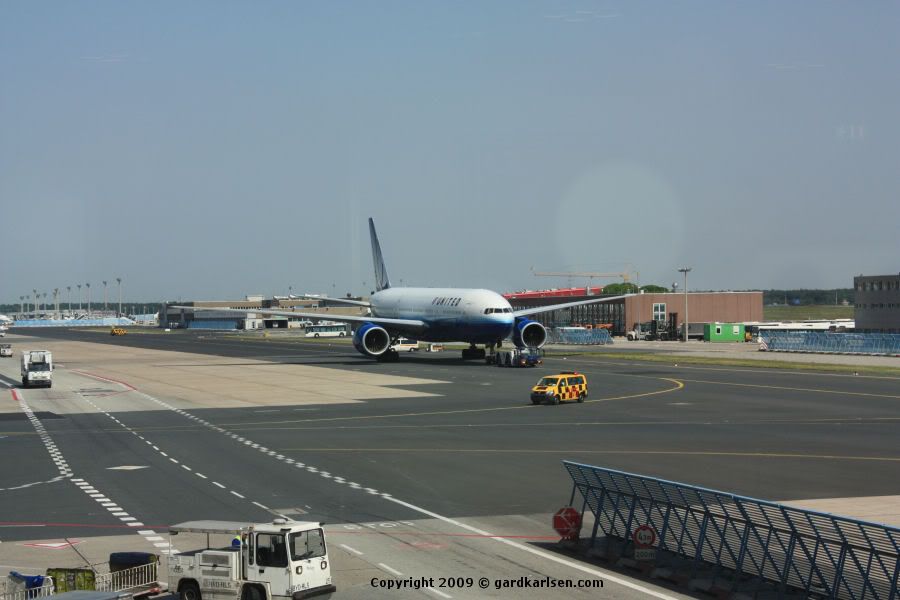 And finally it was time for the last leg – LH3096 took us back to Stavanger in Norway in a 737 in 1 hour and 45 minutes. We came in straight over downtown Stavanger and we got a great view to my city
.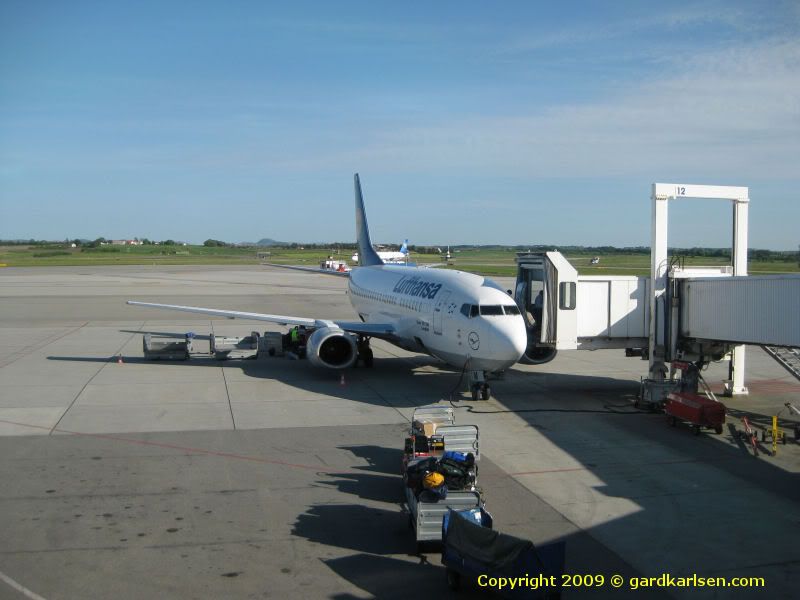 That's basically it for this time – this trip was a great deal as it was only 2800 Norwegian kroner per person. The experience with Lufthansa was good but I look forward to personal TV screens and more choice of entertainment.