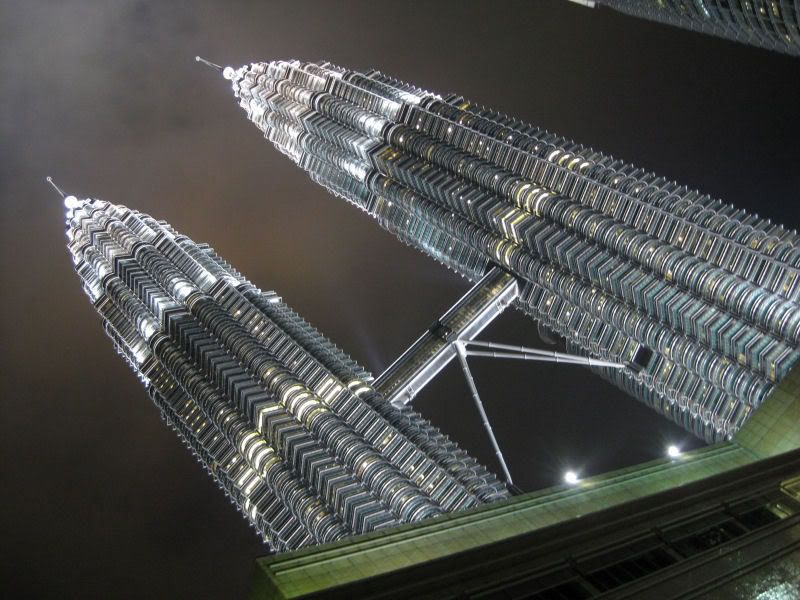 In February 2009 I went to Kuala Lumpur for work and I used SAS to get there. On the way to Kuala Lumpur (or KL as it is also known)  I was able to upgrade to business by using my SAS Eurobonus points but on the way home the flight was completely full and I had to stick to economy class. Even if I am a SAS Eurobonus gold card member this was actually my very first trip with SAS in economy class on a long haul trip. Here are some of my thoughts as I was going home…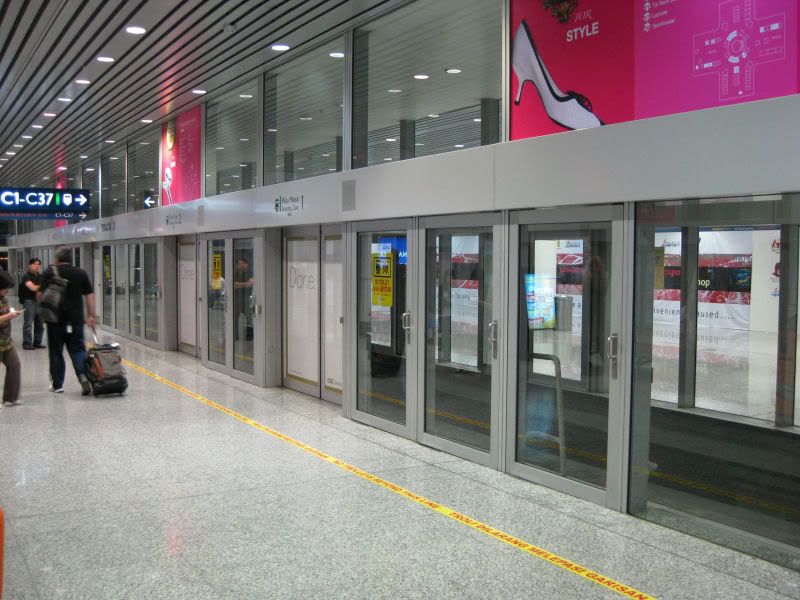 After a week at work in KL it was time to start the trip back home – and I was just getting over the jet lag on the last day there
I checked out early from the hotel but as I'm a regular at Traders hotel I was allowed to use their facilities throughout the day. But after a glass of wine during "happy hour" in the afternoon, it was time for me to get on the road. I took a taxi to KL Sentral and from there the KLIA Express train to the airport. If you are flying Emirates or Malaysia Airlines you can actually check in at the train station but as I had a Thai airways flight, I had to drag my suitcase on board the train. If you want to read more about KL feel free to check out my KL trip report.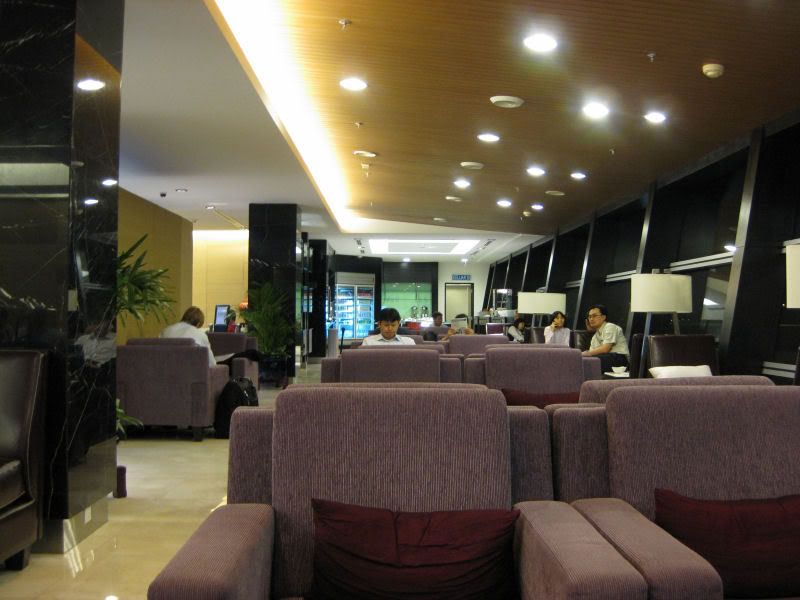 I came to the airport at about 7.30 on February 27th and check in was fast. I asked if I could request an upgrade from Bangkok (BKK) to Copenhagen (CPH) but the lady behind the counter told me that I had to make this request in Bangkok. I went through immigration to check out, safety control and took the train out to the terminal to find a lounge.
I first stopped by the Singapore Airlines lounge as I have a Eurobonus Goldcard and Singapore Airlines is also a part of the StarAlliance. But it seems like this lounge is only if you are flying business with Singapore or have a Krisflyer goldcard. So I went over to the Thai lounge instead – right opposite of the Singapore lounge. The Thai lounge is OK but it is relatively small and the selection of food and drinks is limited. But at least I could sit down in a comfortable chair, get a cold drink and get online on the wifi. It didn't seem like there was any wine on offer in the lounge by the way.
Short video from the lounge

I didn't stay long in the lounge as I had to go to the gate at about 8.30 pm. My flight was TG418 and I was seated in 33B on this Boeing 777-200. The flight was actually quite full and I guess there are a few people that commute between KL and Bangkok and this was a Friday night. The flight itself was pretty boring…I was stuck in a middle seat so there was not much space to move around. The highlight of the flight was the meal of course. Some sort of Waldorf salad, chicken in a pepper sauce with rice and vegetables and a sweet rice dessert.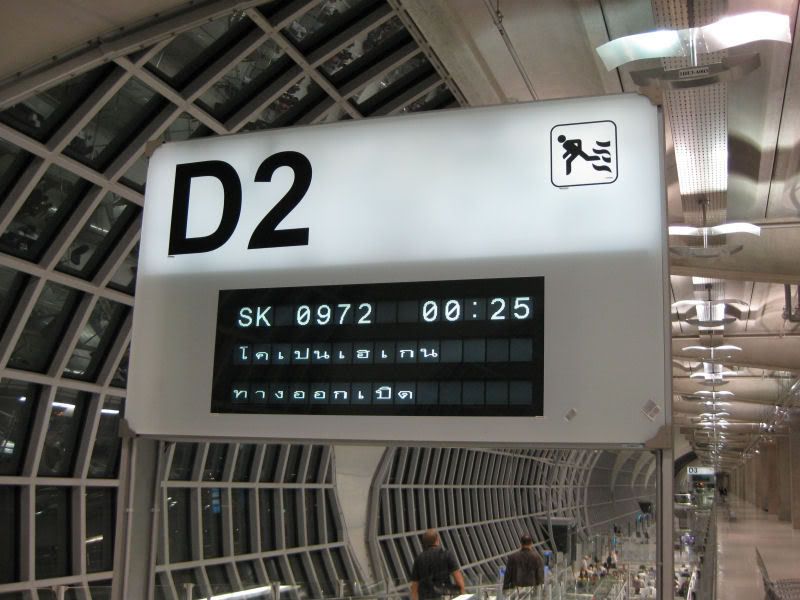 The flight was about 2 hours and we landed in Bangkok at about 10 pm. I first headed to the transfer desk to make a request for an upgrade on my SAS flight from Bangkok to Copenhagen. From there I went to the D section of the airport as the flight was leaving from D2 and as there is a Thai lounge there.The Thai lounge in the D section is huge and offers a combination of chairs, reclining chairs, room for meetings, work stations for getting online etc. There are also big TV screens in the lounge that shows news and there is a nice selection of snack and drinks. I have seen better food selection in other lounges but the Thai lounge is not bad at all.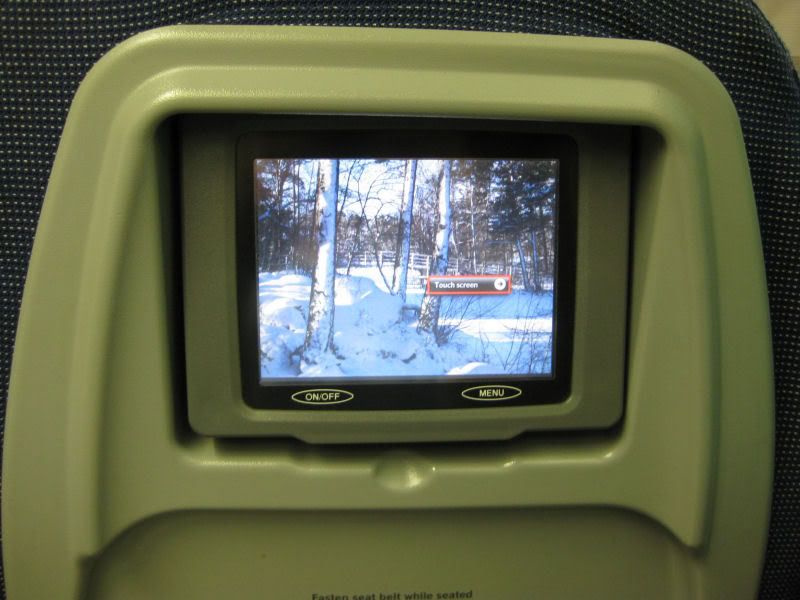 Once again I didn't have to wait that long as my flight was at 12.30 am. I had to go through security once again when going to gate D2 and once again the machine went off so I had to get frisked once again. I don't really mind being felt up but it is kinda annoying when you have been through lots of these controls during a long trip. It didn't take long before I reached D2 and I was of course hoping and keeping my fingers crossed to get an upgrade to business class by using my Eurobonus points…but I soon got the bad news: "Flight is full today"…meaning no upgrade. I got seat 23B on this SK972 to CPH in the Airbus A340 – this was an aisle seat in the 2 seat part of the 2-4-2 configuration.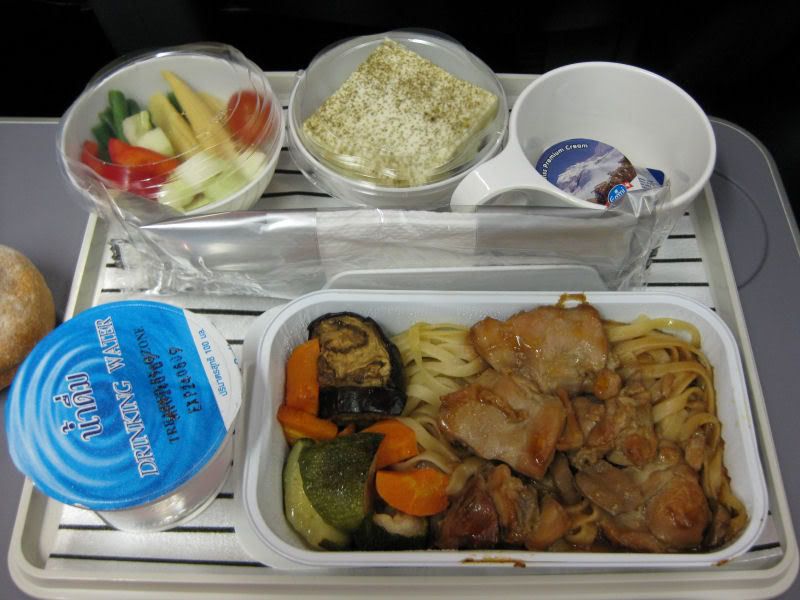 It was the row right behind Economy Extra and I think this gave some extra legroom and that was of course nice (but then again I'm only like 177 cm/ 5" 10'). Before take off the air con was on and there was lots of "steam" as the cold and warm air met. But it was still very warm on the plane but as soon as the doors were closed it got a lot better. Luckily there was a bottle of water for each seat so that we could stay hydrated. The seat was a bit narrow (or maybe my ass is just getting wider
) and the placement of the hand control is a bit strange. Located on the inside of the seat rest made it hard to get it out and a bit hard to adjust things like channels and volume. The screen is on the tiny side if you ask me and you do not have video on demand in economy and hence you just have to find a movie that has just started. The games were the same boring games that I have tested in business class on SAS.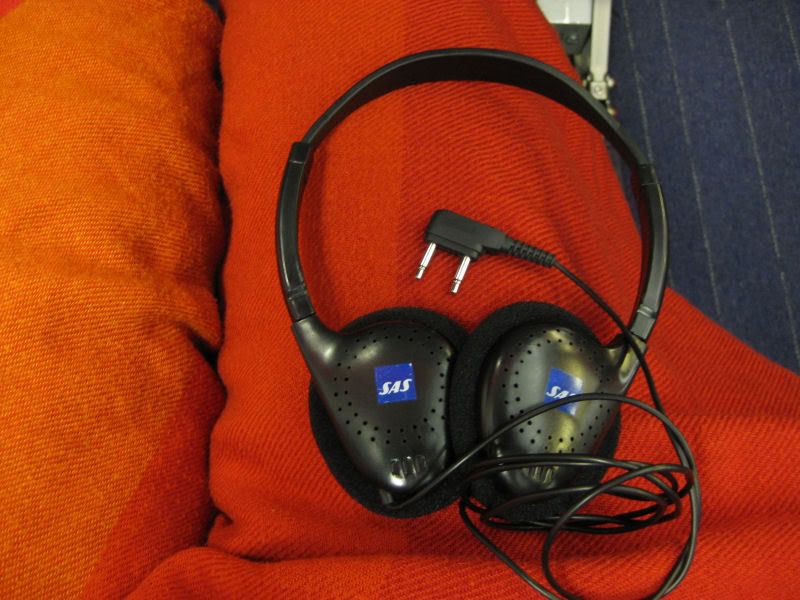 Take off was on schedule and at about 12.30 am we were on our way towards Denmark. After take off we got our headsets and dinner was soon ready. The meal that evening was chicken on pasta and fried vegetables on the side and there was a cream dessert to round it of. Note that you on SAS economy "only" get two alcohol beverages complimentary. Funny enough I was not sleepy so I started watching the Matrix, The Usual suspects etc. I also walked around in the plane a bit and I walked all the way to the back were a couple of the cabin crew were located andI got some water and candy from them. I found it to be considerably noisier in the back of the plane compared to at my seat over the wing.
In the end I had to face my fears…I went back to my seat and tried to get some sleep. But it is not easy as the seats are not really comfortable for sleeping. The flight this time turned out to be quite a marathon flight as they had to slow down due to turbulence. Because of this the flight was 12 hours and 18 minutes!
After a night with lack of sleep and lots of acrobatic attempts to find a comfortable sleeping position, it was time for some breakfast at about 5 am Scandinavian time. The breakfast was very standard…a bun, some ham and cheese, some orange marmalade, orange juice and yogurt.
We landed at about 6.45 am and it was so nice to get out of the plane and walk around on "terra firma".The sun was rising as we landed and it was beautiful. There was a bit of a stampede as there was a flight leaving for Oslo in just 30 minutes after our landing – but I managed to get through security control without any problems
I went to the SAS lounge to get some coffee, water and get online. It seems like they have gone over to Mac in the lounge now and I don't mind that. But I think I have to find out how to type in the @ sign when using Mac because I had major problems with that
At 8.10 am it was time for my last leg with SK1870 with Atlantic Airways to Stavanger in Norway. It would have been great with a window seat on this flight as the weather was pretty good. But I was stuck in an aisle seat – well, I was passed out most of the time as I was getting really tired. I landed in Stavanger and as usual it was a bit of a shock…I left KL with like 33 degrees and came to 1 degree and light snow in Stavanger.
Conclusion

Despite of being a Eurobonus goldcard holder this is the first time I have flown SAS long haul in economy class. All in all I wouldn't say it is any better or worse than other companies that I have used…it is always a bit hard to travel long flights like this in economy class as it is hard to sleep in the economy seat. I would have enjoyed seeing video on demand and I would also like to see more than two complimentary alcoholic drinks. I also like playing games on long flights as it is more interactive – I would like to see better games on the SAS flights.