In September 2008 I went to Aberdeen on a short business trip. I was not sure where to stay so I asked a colleague of mine that had been to Aberdeen before and he said "Stay at Skene House on Rosemount….but be sure to ask to stay in the church". I found "the church" recommendation to bit a bit odd but I followed the advice and booked the room. Click on the more link below to read the entire review.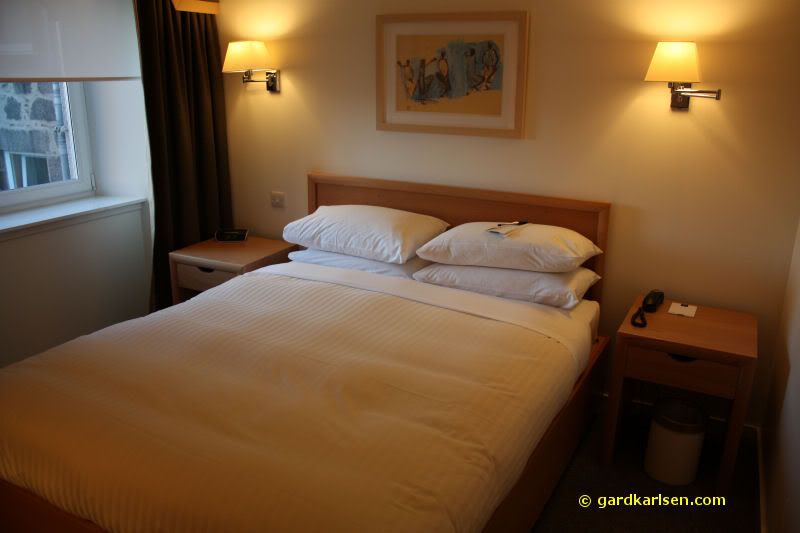 The taxi from the airport was about 15£ and when I arrived the check in was fast and the receptionist called the concierge to show me to my room. It turned out that we had to walk out of the reception and walk across the street and into "the church". The building itself looked a bit old but was we walked in the glass door it was easy to see that this was a building that has been refurbished recently. I got room 505 and when I opened the door I came into a tiny hall with three doors. One of the doors led to the bedroom where I found a king size bed with small tables on each side, a wardrobe with about 10 hangers, a small desk with drawers and a mirror. The room looked pretty modern with the wooden furniture, white painted walls…but I'm not a big fan of carpets. I like my beds a bit soft and I found the bed at Skene house to be quite hard.
The other door in the hall led to the living room. The room included a kitchen table with two chairs, a two seat sofa, a chair, a living room table that could be stored under a desk and a Samsung flat screen TV on the wall. And one of the walls of the room was actually a full kitchen with s small fridge, a microwave oven, a water boiler, a stove…and the kitchen also featured cutlery, plates, glasses etc. In other words excellent if you are staying in Aberdeen for a while.
The third door in the hall led to the bathroom which was tiled in light tiles on walls and floor. The shower was behind a glass wall and I was a bit worried that the water would splash all over when showering but this was actually not a problem at all. The only thing I was not impressed with was the amenities. At hotels there are normally quite a range of amenities but at Skene house all I found was shower gel, shampoo and soap was all I found. But it was not a huge problem as I normally bring along all that I need.
Location
The hotel is located on Rosemount Viaduct so for me it was pretty central as I could walk to the places I was going to visit for business and it only took 5-10 minutes to walk to Union Street. There is also a SPAR store near if you need to run out and buy something.
The breakfast was served on the 1st floor and the breakfast was not impressive in any way. It contained the usual cereal, fruit, toast, cheese, ham, Danish pastry, yogurt etc.
Conclusion

All in all I have to say I'm very impressed with Skene house Rosemount. I guess I was not expecting much of the hotel but I got a huge, modern room and a hotel that was located in the middle of it all. And to top it off they also included wireless internet access which is great when you are travelling alone and can use the nights to get some work done. I would not mind staying at Skene house again. It did not come very cheap by the way. I think the bill was about 170£ per night so it is above what I would pay if I was travelling for leisure.