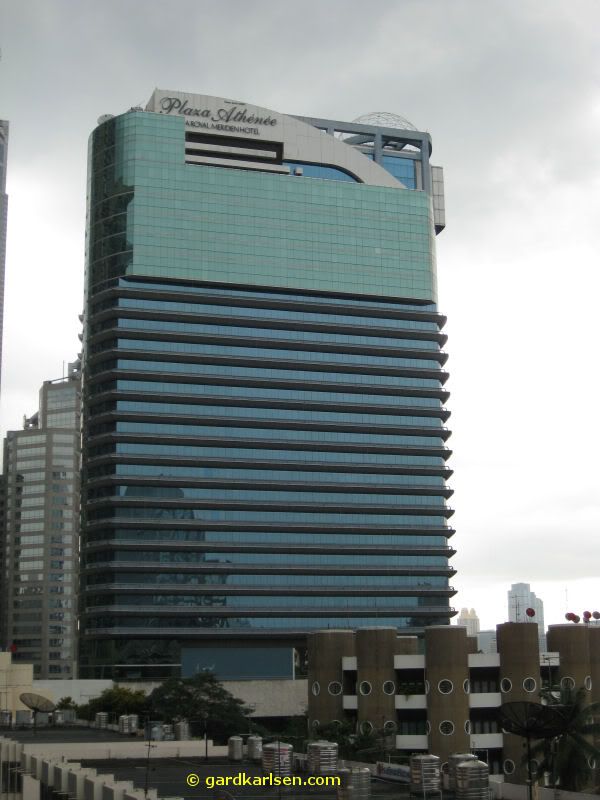 Over the years I have stayed at quite a lot of hotels in Bangkok and it is always fun to try new ones in different locations in the city. As a new SPG (Starwood Preferred Guest) I decided to try out Plaza Athenee Bangkok, A Royal Meridien Hotel on Sukhumvit when I went to Bangkok in April 2009. If you want to read more about Bangkok feel free to check out our Bangkok trip report from 2007 – and if you want to read the review of the hotel please continue reading 
I stayed at Plaza Athenee in Bangkok in the beginning of April in 2009. The room was booked online and I had to pay about 4400 THB per night (about 125 USD) including breakfast, taxes etc. The taxi from the airport to the hotel was about 450 THB (about 13 USD) including the toll on the express way and the hotel is located on Wireless road, just a 5 minute walk from Ploenchit BTS station on Sukhumvit road (if you are that familiar with Bangkok
The welcome at the hotel was great. One of the porters checked the taxi to make sure that I was not paying more than I should and ran to change my 1000 Baht bill to smaller bills. The lobby was grand and very empty apart from the staff and checking in was fast and I got room 2015. I also got the question if I wanted to upgrade for a small fee but as I was only staying for 2 nights I decided to not do it. I also got a paper informing me about my Starwood points and what I could use them for at the hotel…nice touch.
When I came to my floor the first thing I noticed was the lack of corridor music (I'm not sure why most hotels insist on having this) and a nice scent of lime or lemongrass. The hotel room was big at first glance but looked a bit outdated. There was of course a big bed with white linens and a number of pillows surrounded by dark furniture, a greenish/greyish carpet and light walls. Apart from that there was a chair, a small table, a work desk, a flat screen TV (with no Star channels??), a coffee maker, a minibar (Coke was 150 THB, a Heineken 190 THB), a wardrobe with hangers, an ancient safe, very comfortable slippers, robes etc. Once again I have to mention that I think it is annoying to be paying for internet. In a modern world where more and more hotels are offering wifi for free for all guest I can only hope that Plaza Athenee will do the same soon.
The unit for controlling light, alarm clock etc seemed pretty ancient and I don't like that kind of system. The unit on the one side of the bed controls the master light, the alarm clock, air-con etc.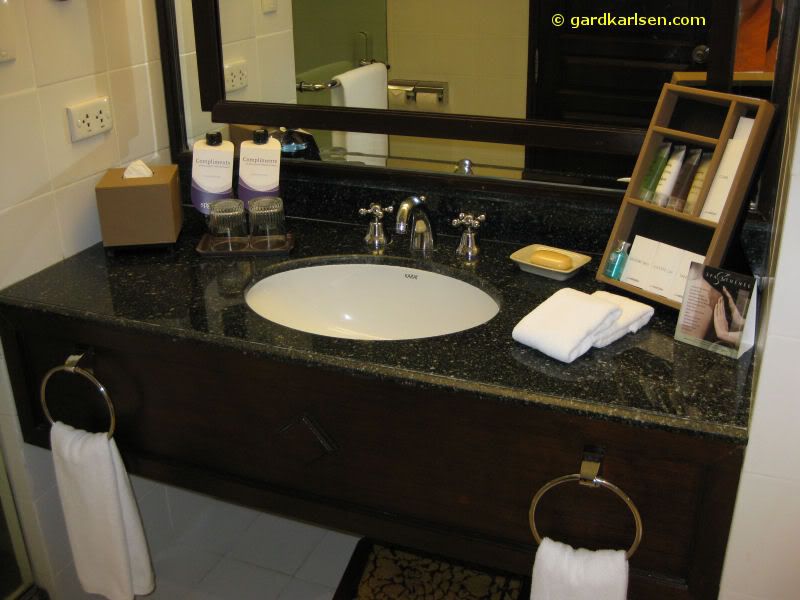 The bathroom was tiled with light tiles and offered both a bathtub and a huge shower corner. I really like a shower corner that offers space for more than just one. Amenities included shampoo, conditioner, lotion, shower gel, comb, shower cap, tooth brush and even mouth wash. According to my wife the hair dryer was the worst that she has ever encountered.The fitness center on the 4th floor seemed nice and the pool also seemed to be big and sun filled. There was even a squash court that you can rent for 300 THB but be sure to book in advance so that they can start the air con before you play.
Breakfast was served on the ground floor and contains pretty much everything you can ask for in a breakfast buffet. You could get everything from congee, bread, omelettes, bacon, sausages, cereal, yogurt etc. The coffee was great and was served in separate squeeze mug maker.
Conclusion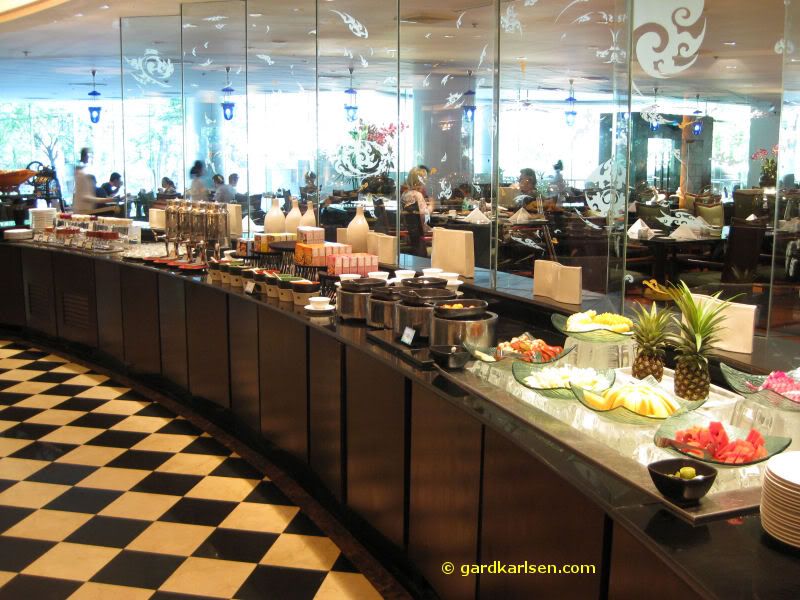 The Plaza Athenee is not a bad hotel but it does feel like it is in a need of a bit of a brush up to keep up to speed with all the other nice hotels in Bangkok. It seems to be a huge hotel and there were not that many other guests when I was there so I'm guessing that they are struggling to keep there occupancy rate up. The room was a bit outdated and even if it was big enough there was just lots of empty space. I also took the life to level 29 to visit Star29 as it sounded like a fancy rooftop bar but when I came there it was just an empty shell and it seemed like it was being rebuilt of refurbished. It is kinda strange that the hotel does not block access to this level when there is nothing there. Having stayed at many other hotels around Bangkok I would not recommend people to stay at Plaza Athenee but rather add a bit extra and stay at e.g. Sheraton on Sukhumvit.